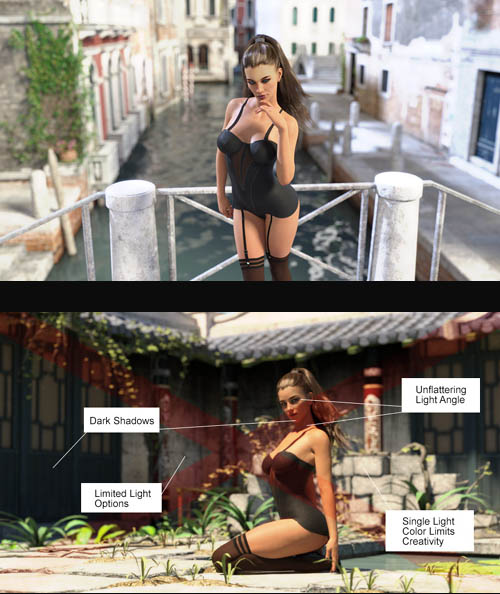 Dreamlight 3D Iray Super HDRI
RENDER HOT OUTDOOR FEMALES
Create breathaking DAZ Studio female renders with unprecedented lighting especially developed for renders in any outdoor scene without using a single light for fast and easy rendering.
BEAUTIFUL FEMALE RENDERS EACH TIME
Super HDRI has professional female lighting and countless hours of test rendering built into it.
Normal outdoor HDRI maps doesn't provide sufficient character lighting. This forces artists to add additional lights, which adds design as well as rendering time. Often, normal HDRI maps also have unflattering sun light angles and very darks shadows, while offering little or none customization options.
Dreamlight's Super HDRI incorporates carefully designed light effects: Key Light, Fill Light, Bounce Light, Background Light, Back Light and Overall Light–creating beautiful, rich and vivid renders making your female characters looking absolutely striking.
GET STUNNING FEMALE RENDERS
Multiple HDRI maps for endless light options without adding a single light:
HE BLEW US AWAY
So, when the amazing 3D artist Robert Hess got his hands on Super HDRI, he blew us away:
http://www.dreamlight3dart.com/superhdri/


You need to be a member to see this