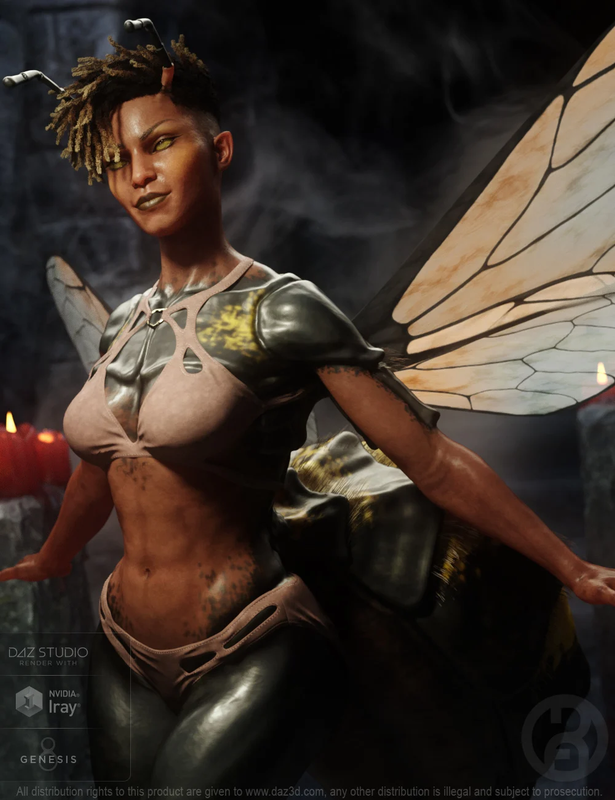 Wasp Queen for Genesis 8 Female
This Queen is the true ruler of her hive. With killer looks as dangerous as her sting, the Wasp Queen for Genesis 8 Female's reign will endure…
The Wasp Queen comes with Geografted and fully rigged Antennas, a Bug back with stinger, and wings.
She has custom crafted high definition Wasp Woman morphs, and unique High detailed textures, along with the dForce fur to accent her more 'creature' aspects.
Get the Wasp Queen for Genesis 8 Female and add some seductive venom to your renders today!
The product is made for dForce but works well in most poses as conforming
Wasp Queen for Genesis 8 Female (.DUF)
Wasp Character Preset
Wasp Shaping Preset
1 Wing Geograft with Shaping and Posing Dials
1 Bug Back Geograft
1 Antenna Geograft with Posing Dials
1 dForce Hair Set for G8F
1 dForce Hair Set for Bug Back
Material Options
3 Full Body Texture Material Presets
5 Insect Eye Material Presets
Textures Include
61 Texture Bump Normal Opacity and Hair Maps (up to 4096×4096)
Daz Studio Iray Material Presets (.DUF)
https://www.daz3d.com/wasp-queen-for-genesis-8-female


You need to be a member to see this