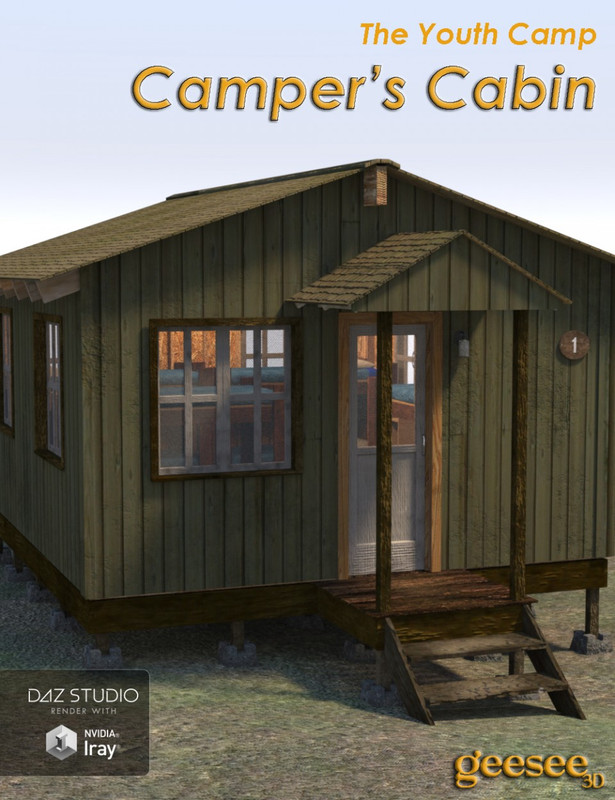 The Youth Camp – Camper's Cabin
Details
At the summer youth camp, kids stay in a cabin with other campers. This cabin is modeled and textured based on the hundreds of cabins to be found throughout the land.
Simple construction of standard lumber and wood, the cabin can hold up to eight campers who can sleep in the bunk beds included. Cubicles are provided for the storage of gear, as well. The foundation is simple pier and post, and each post length can be adjusted so the cabin can fit on any terrain prop (including the one that comes with the model.) The door and windows are made of screen to allow for ventilation.
Every prop in the set includes a texture set created for Iray–including the fluorescent light fixtures which are textured to act as emitters–allowing the interior to render "as is".
This is the first in a planned set of buildings and props for the Youth Camp collection.
What's Included and Features
The Youth Camp Presets : (.DUF)
Youth Camp Cabin
Youth Camp Floor and Posts
Youth Camp Long Wall With Windows
Youth Camp Short Wall With Door
Youth Camp Short Wall With Windows
Props: (.DUF)
Youth Camp Base Posts Cabin:
Raise/Lower
Youth Camp Base Posts Porch:
Raise/Lower
Youth Camp Cabin Sign
Youth Camp Door
Youth Camp Floor
Youth Camp Fluorescent Light
Youth Camp Outside Light
Youth Camp Porch
Youth Camp Roof
Youth Camp Stairs 1
Youth Camp Stairs 2
Youth Camp Stairs 3
Youth Camp Switches:
Switches turn off/on
Youth Camp Wall Long Windows
Youth Camp Wall Short Door
Youth Camp Wall Short Windows
Youth Camp WindowLH
Youth Camp WindowRH
Youth Camp Wiring
Youth Camp Blanket
Youth Camp Bunk Bed Made
Youth Camp Bunk Bed
Youth Camp Cubby
Youth Camp Mattress with Sheet
Youth Camp Terrain 2-2
Youth Camp Pillow:
Flatten Morph
Head Indent Morph
Iray Material Options:
Youth Camp Base Posts Cabin
Youth Camp Base Posts Porch
Youth Camp Cabin Sign
Youth Camp Door
Youth Camp Floor
Youth Camp Fluorescent Light off
Youth Camp Fluorescent Light on
Youth Camp Fluorescent Light
Youth Camp Outside Light off
Youth Camp Outside Light on
Youth Camp Porch
Youth Camp Roof
Youth Camp Stairs
Youth Camp Switches
Youth Camp Wall Long Windows
Youth Camp Wall Short Door
Youth Camp Wall Short Windows
Youth Camp Window
Youth Camp WindowLH
Youth Camp WindowRH
Youth Camp Wiring
Youth Camp Blanket
Youth Camp Bunk Bed
Youth Camp Cubby
Youth Camp Mattress with Sheet
Youth Camp Pillow
Textures Include:
309 Texture, Bump, Normal, Transparency and Specular Maps (1024 x 1024 to 4096 x 4096)
Daz Studio Iray Material Presets (.DUF)
https://www.daz3d.com/the-youth-camp-camper-s-cabin


You need to be a member to see this