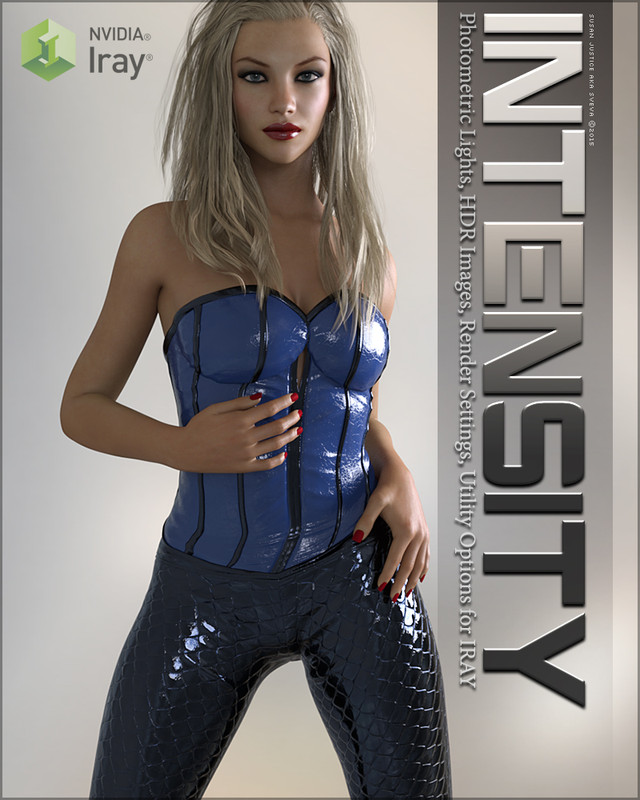 SV's INTENSITY Iray Lights & Settings
SV's INTENSITY Iray Lights & Settings
32 Photometric "studio/photo shoot" IRAY lights, utility options, and render settings, designed from the ground up, to bring you a must have set for DAZ Studio IRAY Nvidia
Includes:
– 16 Photometric Iray Lights
– 16 Photometric Colored Rim Iray Lights (based off the original 16)
– 32 Lights Total
– 02 HDR Images/Domes
– 03 Colored HDR Images (blue/pink/yellow)
– 05 HDR Images Total
– 02 Dome Utility Options ON/OFF
– 03 Settings for HDR Image 01 & 02 (High, Med, Low)
– 03 Render Settings (Fast, Med, Slow)
Features:
The renders seen in the promo images have not been altered, the main promo is entirely straight out of DAZ Studio, including the background HDR Image. I have created these lights based off of my very own Iray needs, built and tested one by one, thoroughly with hours upon hours of adjustments and rendering in my search for the perfect lights, perfect settings, perfect background (dome) images, and once finished we have INTENSITY Iray Lights & Settings, bringing you 16 photometric quality lights and 16 photometric colored rim lights for IRAY.
Inside this package, along with the 32 photometric lights, you will also find 02 main HDR images, and 03 colored HDR images (to match the colored rim lights), and settings to get you started using the dome on/of switch, different levels of INTENSITY for the HDRs, and my very own RENDER SETTINGS. I have included not one, but three render settings to help you in your IRAY rendering.
This is the set to get you on your way to incredible realistic studio lighting!
https://www.renderosity.com/mod/bcs/svs-intensity-iray-lights-and-settings/110997/


You need to be a member to see this