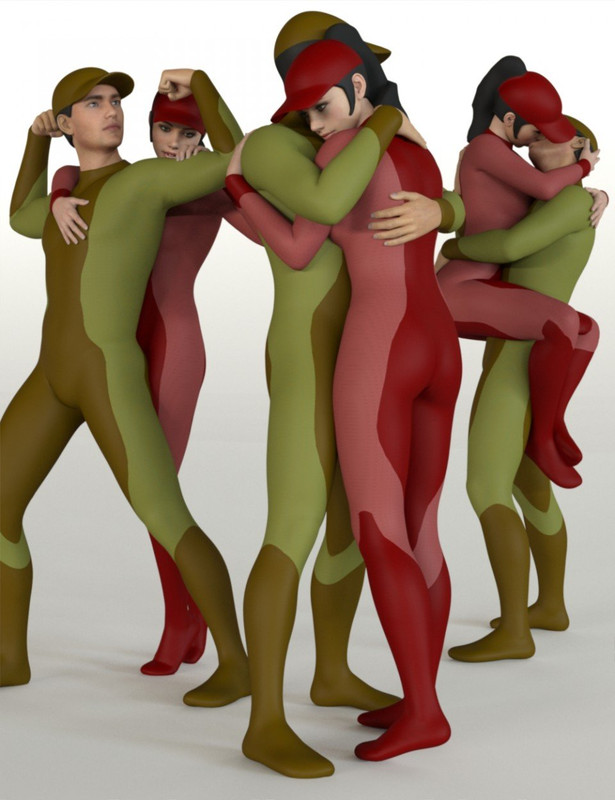 Standing Embracing Poses for Genesis 8
Oh, how I love the warmth of your embrace!
Standing Embracing Poses is a set of 24 pose pairs of a couple embracing each other while standing. The poses were carefully crafted to look natural and balanced from any angle and with particular attention to hand posing.
The set comes with scripts to pose the two figures at once and to optionally group them to make editing easier. All poses include their mirror version and facial expression. Expressions can be optionally ignored to leave any existing figure's face unaltered. The scripts also allow you to ignore (leave unaltered) the lower or upper part of the figures.
Finally, some believable interacting figures in your romantic scenes with Standing Embracing Poses!
After installation, the poses will be available in both the pose folders for Genesis 8 Female and Genesis 8 Male. Also, pose icons include their .tip image (bigger and shown when the mouse is held over the standard pose icon).
Notes:
This product includes scripts to apply the poses.
In order to use the scripts, have BOTH relevant figures (Genesis 8 Male or Female) selected in the Scene Pane and then double-click the desired "Pose."
The dialog box that appears will allow you also to mirror the pose, include/exclude the figures' expressions, or only apply partial (lower/upper body) poses.
If you choose to let the script also group the figures for you, the first figure you select will determine the final position/orientation of the grouped figures.
The script will also work when a single figure is selected, allowing you to specify which pose to use from the pair.
https://www.daz3d.com/catalog/product/view/id/70417

You need to be a member to see this