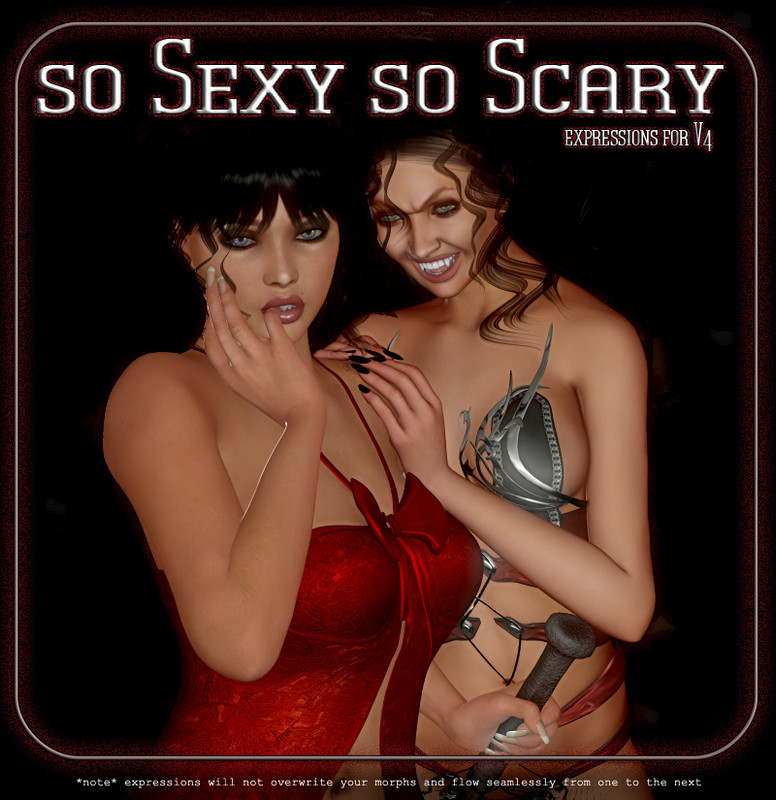 So Sexy So Scary Expressions
Need to add some intensity and passion to your character's look? Want a wide variety of looks and emotion that range from truly intense to subtle? Then So Sexy So Scary Expressions may be the collection for you.
Included are 60 unique and detailed expression separated into two categories, Sexy & Scary. The Scary category has expressions ranging from dark and maniacal to frightened and adorably worried. The Sexy category has expressions ranging from genuine sex appeal and passionate intensity to naturally fun and flirtatious.
The expressions have been specially designed to work with a wide variety of characters and preserve their unique look as much as possible while still conveying emotion.
These expressions will not affect your morphs and flow seamlessly from one to the next. A zero expression pose and a zero tongue pose are included. Use the zero tongue pose either before or after applying any expression utilizing the tongue to get the desired result, Enjoy!!
https://www.renderosity.com/mod/bcs/so-sexy-so-scary-expressions/82429


You need to be a member to see this