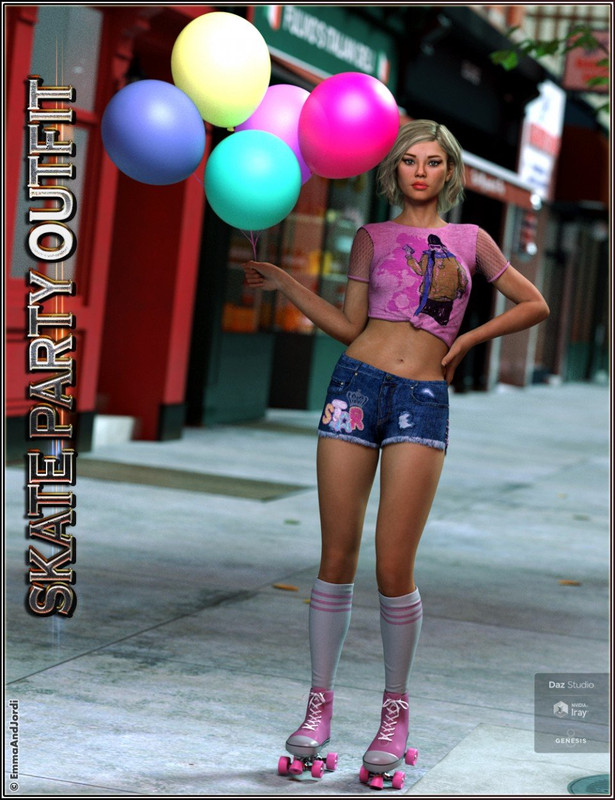 Skate Party Outfit and Poses For Genesis 8 Female(s)
Skate Party Outfit and Poses For Genesis 8 Female(s) is a complete outfit of several pieces: lace-up denim shorts, tied shirt with lace or solid sleeves, skate rollers that can be used with socks or without them and also as flat shoes, and several groups of balloons. There are also 10 poses included for quick scene building, and many materials to choose for each part, including special options, and random color icons for the balloons and roller wheels, so you can customize it completely. This is a perfect outfit for skate parties, sports girls, street fashion, and many other themes. A must have for your Genesis 8 Female!
SPECIAL OPTIONS
The sleeves of the shirt can be set with lace or solid. For each one of the 8 material presets, you can apply both looks and get even more diversity. The rollers have icons to hide or show the socks, and also for hiding the metallic parts and the wheels, so they become casual flat shoes. So with them you have four in one: rollers with sporty socks, rollers without socks, flat sporty shoes with socks, and without socks. There is also a random color generator for the wheels of the rollers. The balloons come in different groups: single balloon for left hand, single for right hand, group for left, group for right. You can set 3 levels of opacity in case you want them more or less transparent, and also set high or low gloss. There is a random color generator for the balloons that will set a random color for the balloon and the cord by just clicking its icon.
MATERIALS
There are material presets for the full outfit including the balloons, and also partial materials for the shirt, shorts, rollers, and balloons, including random color generators for the balloons and the wheels of the rollers, and to set the gloss and transparency of the balloons, and the lace or solid look of the shirt sleeves. You can mix and match the many materials of shirt, rollers, and shorts and get lots of combinations. All these options together allow to achieve countless different looks!
MORPHS
The shirt has morphs for fuller chest, raise the back part, shorten the front, or making the front straight. Each one of the balloons have pose control dials to move them, and also morphs to adjust their position in the hand, and size morphs to make the balloons bigger or smaller, and the cord longer or shorter.
POSES
The pack contains 10 poses for the outfit and the group of balloons, and a zero reset morph, hand and feet poses to build your own pose too.
COMPATIBILITY
Supported Genesis 8 Female shapes: Aiko 8, The Girl 8, and Victoria 8. Other body morphs supported by Auto-follow. This dress works with all the Genesis 8 Body Morphs, as all of them have been included when needed, which means full freedom to use any of those morphs in your renders.
https://www.daz3d.com/skate-party-outfit-and-poses-for-genesis-8-females


You need to be a member to see this