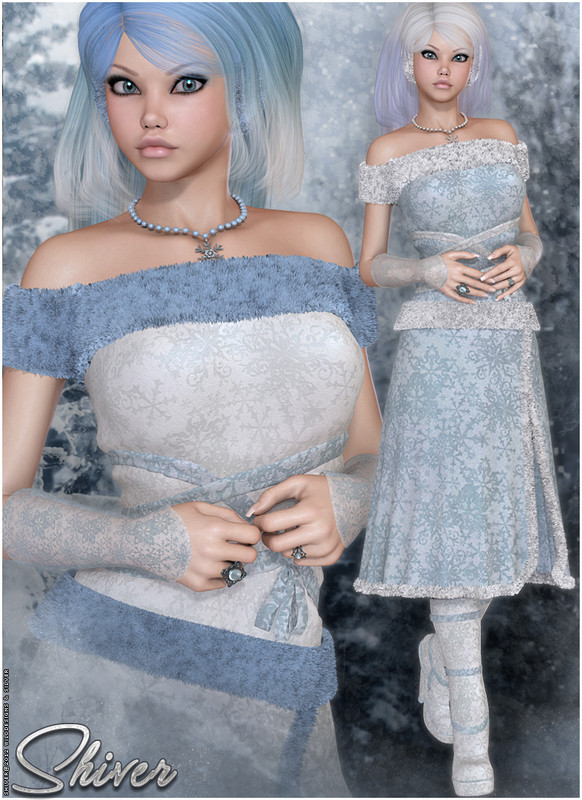 Shiver
This set consists of 05 items for Victoria 4 – Boots, Gloves, Necklace, Top, Skirt
Bonus! Smart Prop Ear Muffs included!
Included are MAT poses to apply 3 highly detailed texture styles in 2 versions each to all pieces.
Many full body and adjustment morphs along with many morphs from the V4 Morphs++ set have been added
to all the pieces in order for them to fit your favorite character creations for V4.
All conforming items are crosstalking/super conforming.
*NOTE* To use the fur options make sure 'Use Displacement' is checked under your render options.
The fur is shader based and only visible after you render. Not supported in Daz Studio
——————————–
Included in this Package:
——————————–
006 Geometry Files
032 Texture Files
003 Full Texture Options with 2 versions for each
054 Mat Poses
005 Conforming Clothing Figures for V4 with Morphs
– Boots Left
– Boots Right
– Gloves
– Necklace
– Skirt
– Top
Matposes and Material Settings are optimized for Poser 7 or higher.
Matposes should work in Daz Studio 4 or higher. Fur Mat Poses will not work in Daz Studio.
——————————–
Supported Morphs:
——————————–
Full Body:
Aiko Body
Aiko Petite
Aiko Realistic
Aiko Stylized
Amazon
Bulk
Fitness
TheGirl
Thin
Voluptuous
Young
Partial Body Morphs++:
ArmSize
BellySmooth
BellyThickness
BellyThin
BreastDownL/R
BreastInL/R
BreastOutL/R
BreastUp/R
BreastsCleavage
BreastsCleavageWidth
BreastDiameter
BreastsImplant
BreastsLarge
BreastsNatural
BreastsPerk
BreastsSize
ForearmsThickness
GlutesSize
HipsCrest
HipsSize
Inhale
LoveHandleL/R
Nipples
NipplesDepth
NipplesHeight
ShinsThickness
ShouldersThickness
StomachDepth
ThighsThickness
ThighsTone
TorsoThickness
TummyOut
WaistWidth
Adjustment Morphs:
AdjustButtocks
AdjustCollars
AdjustForearms
AdjustHips
AdjustShins
AdjustShldrs
AdjustThighs
AdjustTorsoUp
AdjustWaist
Skirt Morphs:
BlowBack
BlowLeft
BlowRight
SkirtOpen
Skirt includes ghost handles and an ALL Skirt handle for easier posing.
https://www.renderosity.com/mod/bcs/shiver/96853/


You need to be a member to see this