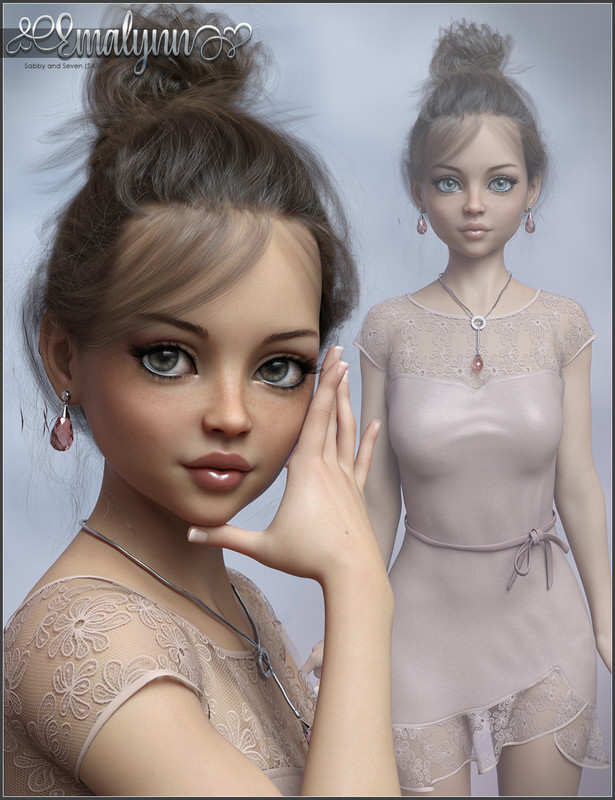 SASE Emalynn for Genesis 8 and 8.1 Female
•·.·´`·.·• SASE Emalynn for Genesis 8 Female •·.·´`·.·•
Emalynn is a sexy and curvy stylized toony character for your runtime!
Emalynn's face and body are designed to bring your renders to life.
Her unique and feminine morph was created in Daz|Studio and fine tuned in zbrush.
As always Emalynn's skin was created using a combination of photos,
hand painting, and resources.
•·.·´`·.·••·.·´`·.·••·.·´`·.·••·.·´`·.·•
Morph Options:
• Emalynn Head Apply & Rem
• Emalynn Body Morph & Rem
• Emalynn Apply All Morph & Rem
Emalynn Skin Options:
• Full Body Texture** with bump, spec, normals
• 10 Eye Colours
• 1 Eye Darken Preset (darkens the sclera and iris)
• 1 Eye Brighten Preset (brightens the iris)
• 10 Lip Colours (soft nudes and brights)
• 1 Lip Glitter
• 1 Lip HiGloss
• 10 Eye Shadow (matte and shimmer)
• 4 Eyeliners LIE
• 2 Freckles LIE
• 1 Blush LIE
• 1 Softer Makeup LIE
• 1 Lips Softer LIE
Also included:
• Warm & Cool Skintone Options
• 3 Skintone Options
• 3 Specular Options
• Normal Maps On/Off
https://www.renderosity.com/rr/mod/bcs/sase-emalynn-for-genesis-8-and-8-1-female/154277/