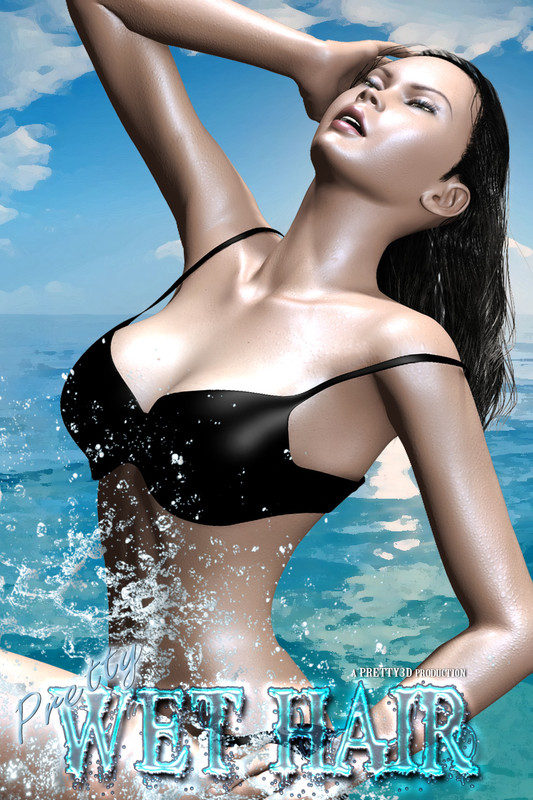 Pretty Wet Hair
Pretty Wet Hair is a high quality realistic hair model for Victoria 4, Aiko 4, Stephanie 4 and The Girl 4. This hair include many dynamic morphs and there are many color variations.
There are also many color variations at the package. You can change the color of the hair and hair band easily by using material poses.
The package includes;
♥ 1 Hair figure
♥ 5 Hair color textures and matposes
♥ 1 Reset Morphs Pose
♥ 1 Reset Helpers Pose
♥ 1 Front Strands HIDE pose
Pretty Wet Hair includes many fitting, movement, length and styles morphs. So that you can work properly on your character movements You can have a look to morph lists and previews of some morphs from here.
♥ Fitting Morphs
├ Aiko4
├ TheGirl4
♥ Movements Morphs
├ MoveBack1
├ MoveBack2
├ MoveRight
├ MoveLeft
├ FrontMoveBackFull
├ FrontMoveBackL
├ FrontMoveBackR
♥ Length Morphs
├ FrontLengthLong
├ BackLengthLong
♥ Style Morphs
├ TopThick
├ FrontOnFace
├ FrontNarrow
├ BackNarrow
├ BackMoveFront
├ BackBottomWidth
├ BackMiddleWidth
Besides, there are 4 helper bones. By using these bones, you can adjust your hair to your own poses easily.
TECHNICAL
This product is only compatible with Poser 6 and up.
This product is compatible with DAZ Studio 3 and up.
The product designed on Windows, and tested on MAC.
MAC Users, no need for Mac conversion, all png. files are supplied.
https://www.renderosity.com/mod/bcs/pretty-wet-hair/98622


You need to be a member to see this