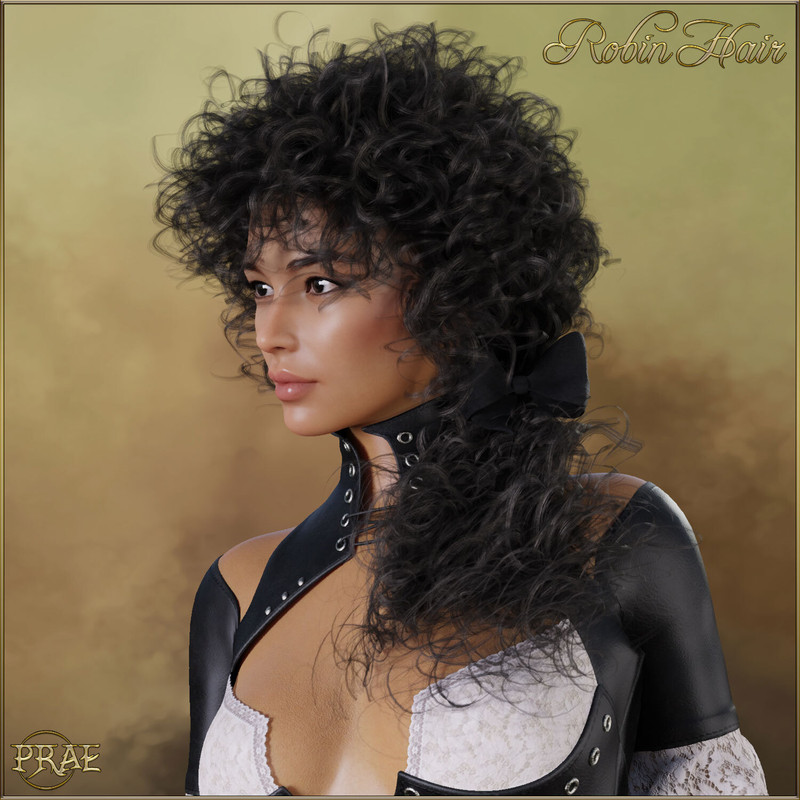 Prae-Robin Hair For G8F Daz
Software: DAZ Studio 4 With IRAY
Base Figures: Genesis 8 Female
Departments: 3D Figure Assets • Hair
Robin hair is a messy, curly ponytail. It comes with 22 natural and fun hair colours for Iray and 8 Bow colours. This product is Iray only.
This hair is for Genesis 8 female but can also be made to fit more characters with the use of Auto Fit and the supplied Adjustment morphs.
Fits
Karyssa 8
Mika 8
Sakura8
Aiko8
Daisy8
Girl8
Kanade8
MeiLin8
Monique8
TeenJosie8
Victoria8
Hair Morphs
Bangs Long
Bangs Short
Hair Big
Hair Norrow
Hair Tall
Hair Tight
Hair Wide
Hang Down
Tail Morphs
Over Left Shoulder
Over Right Shoulder
Swing Back
Swing In
Swing Left
Swing Right
Tail Back
Tail Big
Tail Forward
Tail Left
Tail Long
Tail Narrow
Tail Right
Tail Short
Tail Wide
Twist Left
Twist Right
Ends Messy
Windy Morphs
Windy Back
Windy Front
Windy Left
Windy Right
Adjustment Morphs
Adjust Back Sides
Adjust Back
Adjust Front Left
Adjust Front Right
Adjust Front
Adjust Hair
Adjust Left Side
Adjust Right Side
Adjust Top
Hair Colours
Robin Hair Ash
Robin Hair Black
Robin Hair Blonde
Robin Hair Blue
Robin Hair Brown
Robin Hair Chestnut
Robin Hair Copper
Robin Hair Gold
Robin Hair Green
Robin Hair Grey
Robin Hair Honey
Robin Hair Lemon
Robin Hair Mint
Robin Hair Mousy
Robin Hair Peach
Robin Hair Pink
Robin Hair Purple
Robin Hair Red
Robin Hair Silver
Robin Hair Sky
Robin Hair Smoke
Robin Hair Teal
More Shine
Less Shine
Bow Colours
Black
Blue
Gold
Green
Pink
Purple
Red
Silver
**************************************
More items like this HERE!
**************************************
https://www.renderosity.com/rr/mod/bcs/prae-robin-hair-for-g8f-daz/150193/