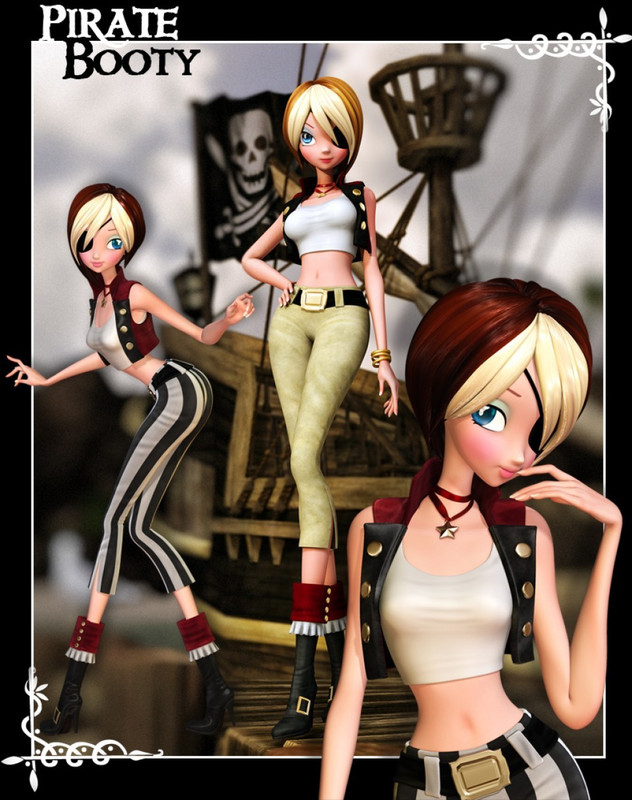 Pirate Booty for Star!
Details
Daring! Dashing! Devilishly Charming!
It's a Pirate's life for me!
Introducing Pyrx, the Pirate of the Treasured Booty, the owner of the most dangerous curves of the seven seas, and that isn't just talking about her Cutlas. Pirate Booty for Star!
Sail away with this playful little minx, with her spritely haircut, her jaunty little vest and her to die for boots. The Adventure has only just begun!
What's Included and Features
Pirate Booty for Star!: (.DUF and .CR2)
Pirate Top
BodyCorset
BodySlim
Pirate Vest
BodyCorset
BodySlim
Pirate Pants
BodyCorset
BodySlim
Pirate Boots
BodyCorset
BodySlim
Star Necklace
PendantLift
PendantSwingL
PendantSwingR
RibbonSwingL
RibbonSwingR
Eye Patch
Eye Patch Fit
Pyrx Hair
Pirate Booty Clothing Texture
4 Pant Texture Options
17 Hair Color Options
Textures Include:
33 Texture and Bump Maps (1024 x 1024 to 4096 x 4096)
DAZ Studio Material Presets (.DUF)
Poser Custom Material Presets (.MC6)
https://www.daz3d.com/pirate-booty-for-star


You need to be a member to see this