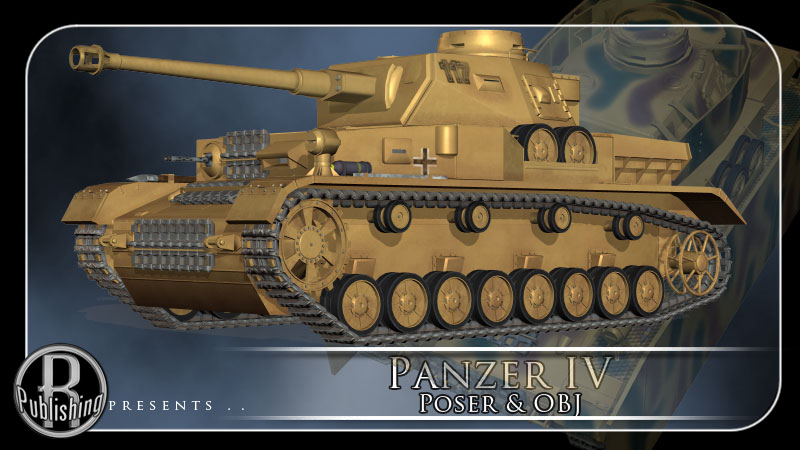 PANZER IV
These four Poser models accurately portray the Panzer IV development. Early versions, mostly up to 1942, used during the Blitzkrieg and in the occupation of France, carried the short barrel 75mm anti-infantary gun. When the Germans encountered the Shermans in North Africa the gun was upgraded to the long barrel version, and when the tanks encountered the Soviet T-34's, they started adding extra armour plating and armour "skirts" around the turret. Towards the end of the war, the Allies had air superiority, and the tanks were mostly hidden, camouflaged, and used from cover, as they couldn't travel without being targets for the tank-buster aircraft. Model features
Four fully featured models of the Panzer IV from 1942, 1943, 1944 and 1945.
Fully working tracks, both forwards and backwards, independant or with a single dial.
Opening hatches for the commander, driver and radio operator, opening engine hatch and stowage bin, and opening doors on the turret "skirts". Traversable turret and elevating main gun and machine gun.
Detailed interior, removeable extras like spare wheels and tools, and removeable extra track links.
Highly detailed but with a low polygon count. Model history
The Panzerkampfwagen IV (PzKpfw IV), more commonly referred to as the Panzer IV, was a tank developed by Germany and used extensively in World War II. It was designed initially as an infantry-support medium tank, to work in conjunction with the anti-tank Pzkpfw III. Later in the war, it was up-gunned and up-armored, and took over the tank-fighting role. The Panzer IV was the most common German tank of World War II, and was used as the base for many other fighting vehicles, such as tank destroyers and self-propelled anti-aircraft guns. The Panzer IV has the distinction of being the only German tank to remain in continuous production throughout all of WWII, with over 9,000 produced since 1939.
The Panzer IV was originally intended principally to deal with infantry and fortifications, while the Panzer III dealt with enemy armoured units. To this end it was equipped with the 75 mm KwK 37 L/24 gun, which was effective against soft targets but lacked much armour penetration. It had poor accuracy, because the barrel was very short (1800 mm), giving a low muzzle velocity. For comparison the L/48 Gun is 3600 mm long.
Combat experience showed that increasingly the 50 mm L/60 gun mounted on late-model Panzer III was unable to deal with enemy tanks at long range. Panzer IIIs struggled against T-34s of the Soviet Union and M4 Shermans of the United States, both of which had guns in the 75 or 76 mm calibre.
The Panzer IV's design already mounted a 75 mm gun and it was the obvious choice for the next medium tank development. As the Wehrmacht needed a tank with good anti-tank capabilities to deal with the T34, the production of the Panzer IV model F was changed to an improved model with a redesigned turret carrying a new, more powerful 75 mm L/43 anti-tank gun. The Pz-IV F2 was later renamed Pz-IV G and production continued under this name with minor improvements. Early model Panzer IV tanks were often upgraded for increased combat efficiency. From 1943, for example, surviving Panzer IV models E/F were given additional armor and the 75 mm L48 gun.
https://www.renderosity.com/mod/bcs/index.php?ViewProduct=53009


You need to be a member to see this