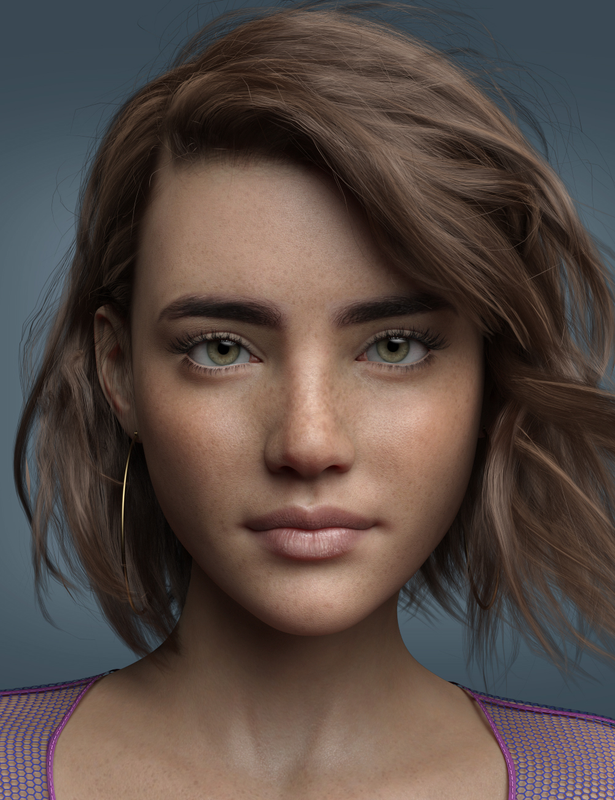 P3D Brenda for Genesis 8 Female (Dead Link Repost)
Brenda is a cute freckled character for Genesis 8 Female.
Her Head and Body morphs are carefully created in Zbrush with eye for detail
Brenda's textures are high-quality and created from high-resolution photos as well as hand painted parts.
She comes with lots of options, so don't miss out on P3D Brenda for Genesis 8 Female.
She can also be used on Genesis 8.1 Female but then she will use the default Genesis 8.1 Female Eyelashes and the Genesis 8 Female UV maps, which works pretty fine.
In order to use this character you need the following products:
Genesis 8 Female:
Included with DAZ Studio 4+
Features:
1 Head Apply/REM
1 Body Apply/REM
4 Longer Lashes Length Apply/REM
1 Longer Nails Apply/REM
1 Nipples Apply/REM
1 Navel Apply/REM
1 Custom Smile Apply/REM
1 Custom Teeth Apply/REM
1 Mat complete (incl. genital maps)
6 Eye colors
7 Eyeshadows
7 Lipsticks
1 Nude Face
1 Nude Lips
2 LIE Blush options
2 LIE Eyeliner options, which can be used on top of any eyeshadow
Material options:
Iray (.duf)
Brenda uses Genesis 8 Female Base UV maps.
https://www.renderosity.com/rr/mod/bcs/p3d-brenda-for-genesis-8-female/153222/


File Hosting: Mega.nz