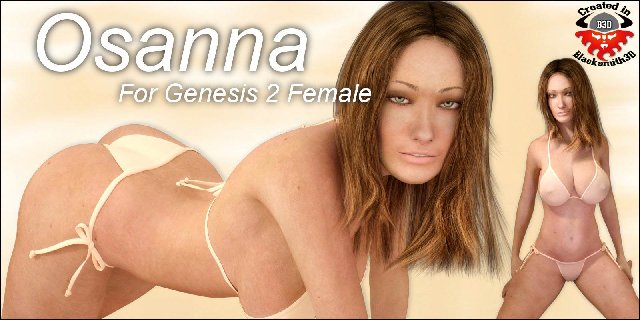 Osanna Character for G2F
Osanna is a beautiful and wild character with unique morphs and skin textures for Genesis 2 Females
With the perfect blend of photo-realness and sharp, characterized details, Osanna radiates beauty and renders especially well with subsurface scattering and the soft glow of ambient occlusion lighting. Her haunting eyes will lure you in, while the skin details offer rich color variation with oh-so-subtle bump mapping and SSS maps in DAZ Studio. The renders shown here were done in Daz Studio 4.8 with the 3Delight renderer,
Includes:
– Four Facial Expressions so you can get Osanna in the mood straight out of the box!
– Color, Bump, Specular and SSS maps.
– Separate face and body morphs for interchanging with other characters
– Natural, Light and Heavy Makeup textures for her face.
Product does not include Hair or Bikini
Promo credits:
Buenaventura Hair
Bikini included in Genesis 2 Female starter kit
https://www.renderosity.com/mod/bcs/osanna-character-for-g2f/112601/


You need to be a member to see this