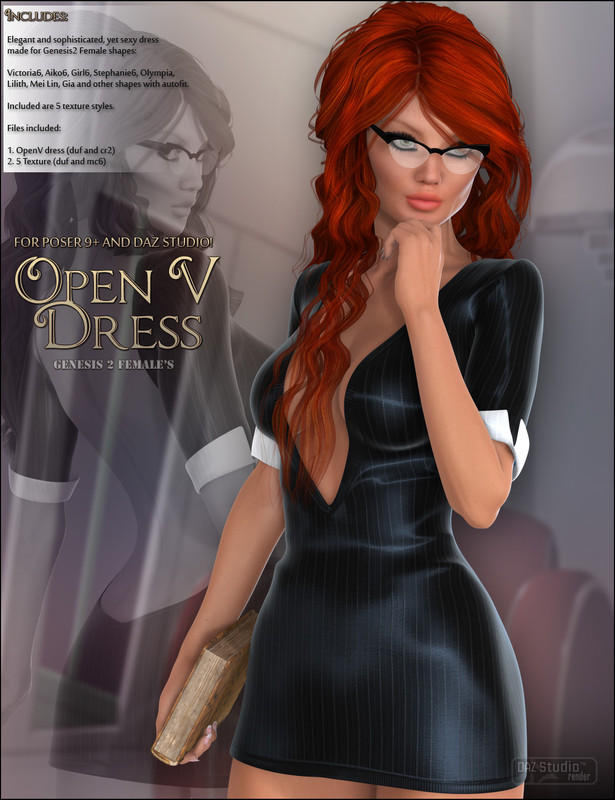 Open V Dress for G2F (The real dress)
Elegant and sophisticated, yet sexy dress made for Genesis2 Female shapes:
Victoria6, Aiko6, Girl6, Stephanie6, Olympia,Lilith, Mei Lin, Gia, Keiko.
Included are 5 texture styles.
Extra morphs for open the dress and pull skirt up.
Files included:
1. OpenV Dress (duf and cr2)
2. 5 Texture (duf and mc6)
Morphs:
Adjust_Breasts.dsf
Adjust_Buttocks.dsf
Adjust_Front.dsf
Adjust_Shoulders.dsf
Adjust_Skirt.dsf
Adjust_Sleeves.dsf
CTRLBreastsImplants.dsf
CTRLBreastsNatural.dsf
FBMAiko6.dsf
FBMBodySize.dsf
FBMBodyTone.dsf
FBMBodybuilderDetails.dsf
FBMBodybuilderSize.dsf
FBMFitnessDetails.dsf
FBMFitnessSize.dsf
FBMGiaBody.dsf
FBMGirl6.dsf
FBMGiselle.dsf
FBMKeiko6Body.dsf
FBMLilith6.dsf
FBMMeiLin6.dsf
FBMOlympia.dsf
FBMPearFigure.dsf
FBMStephanie6.dsf
FBMThin.dsf
FBMVictoria6Body.dsf
FBMVoluptuous.dsf
PBMBreastsCleavage.dsf
PBMBreastsDiameter.dsf
PBMBreastsSize.dsf
PBMGlutesSize.dsf
ShowBreast_L.dsf
ShowBreast_R.dsf
Skirt_LiftBack.dsf
Skirt_LiftL.dsf
Skirt_LiftR.dsf
Other body morphs supported by autofollow.
https://www.renderosity.com/mod/bcs/open-v-dress-for-g2f/109026/


You need to be a member to see this