OBJ Companion
OBJ Companion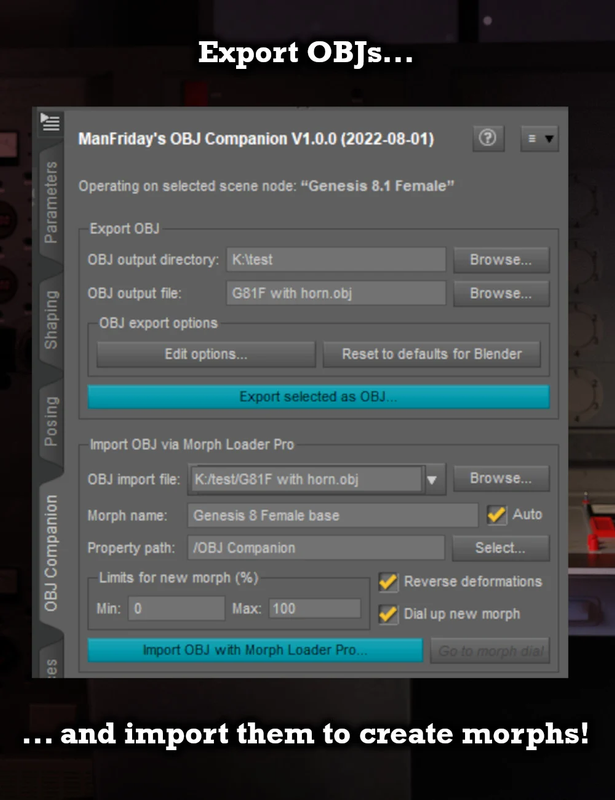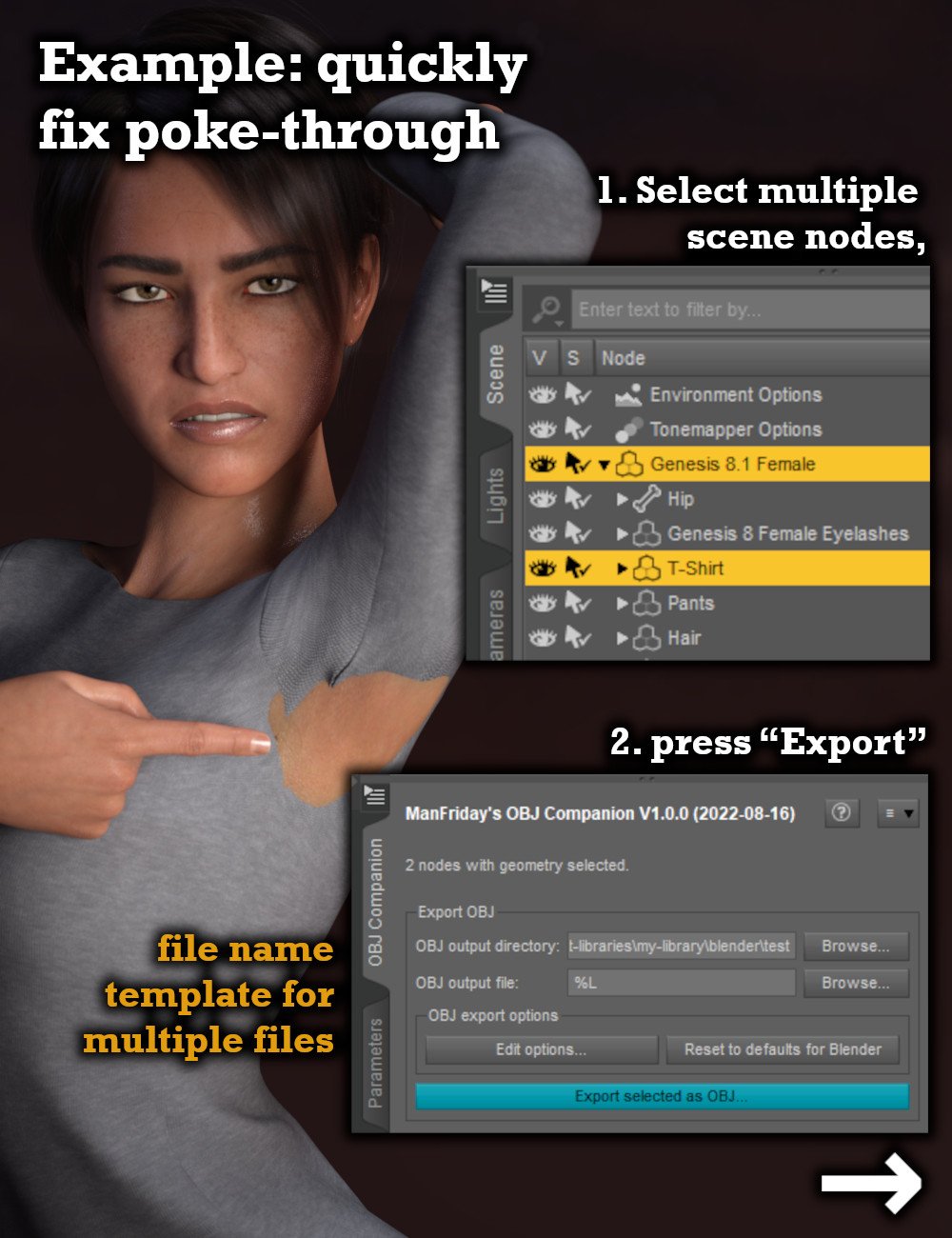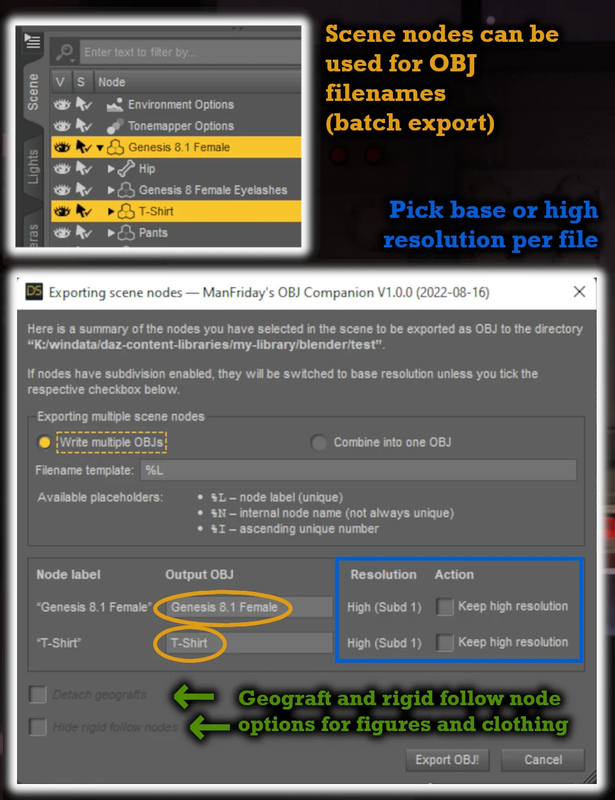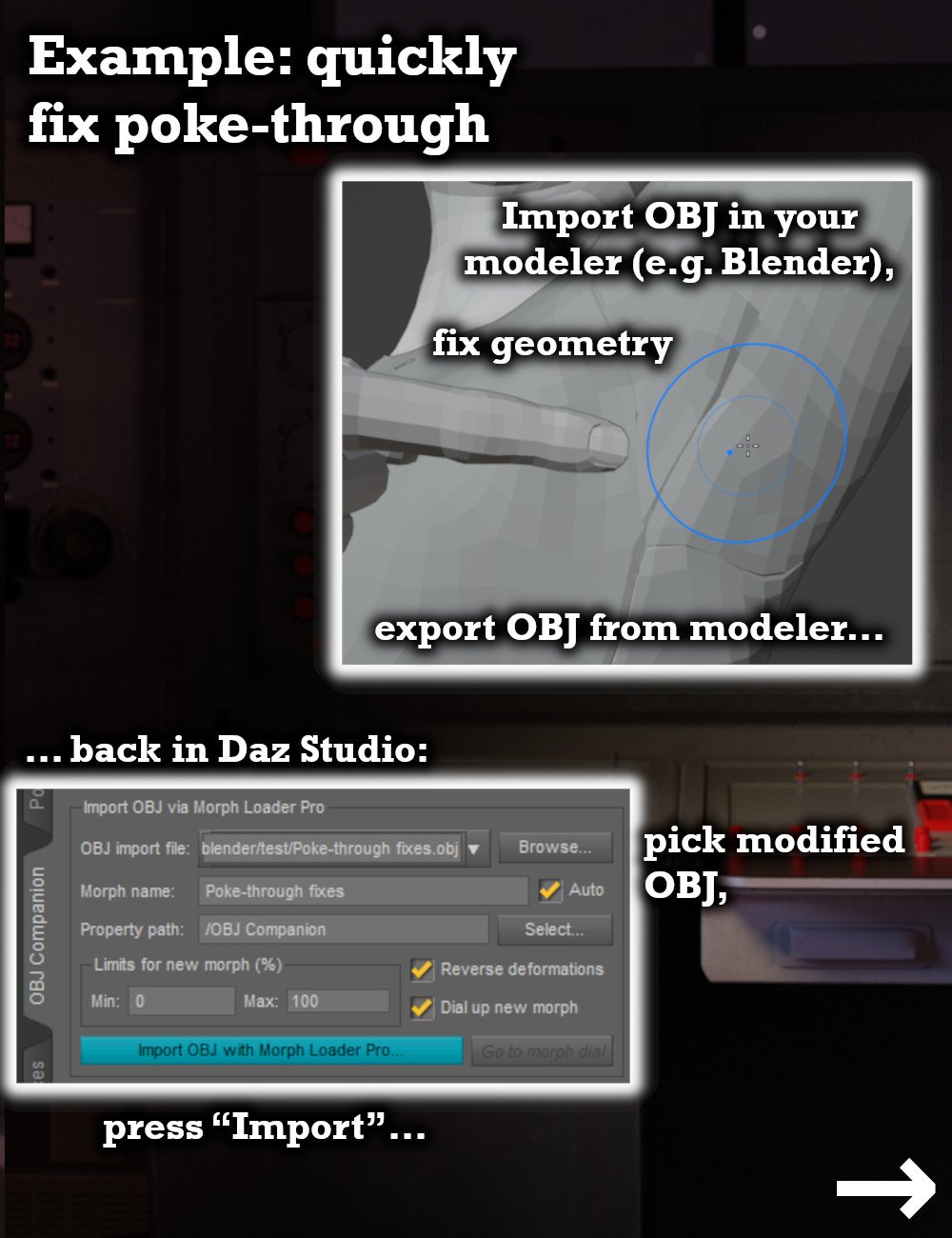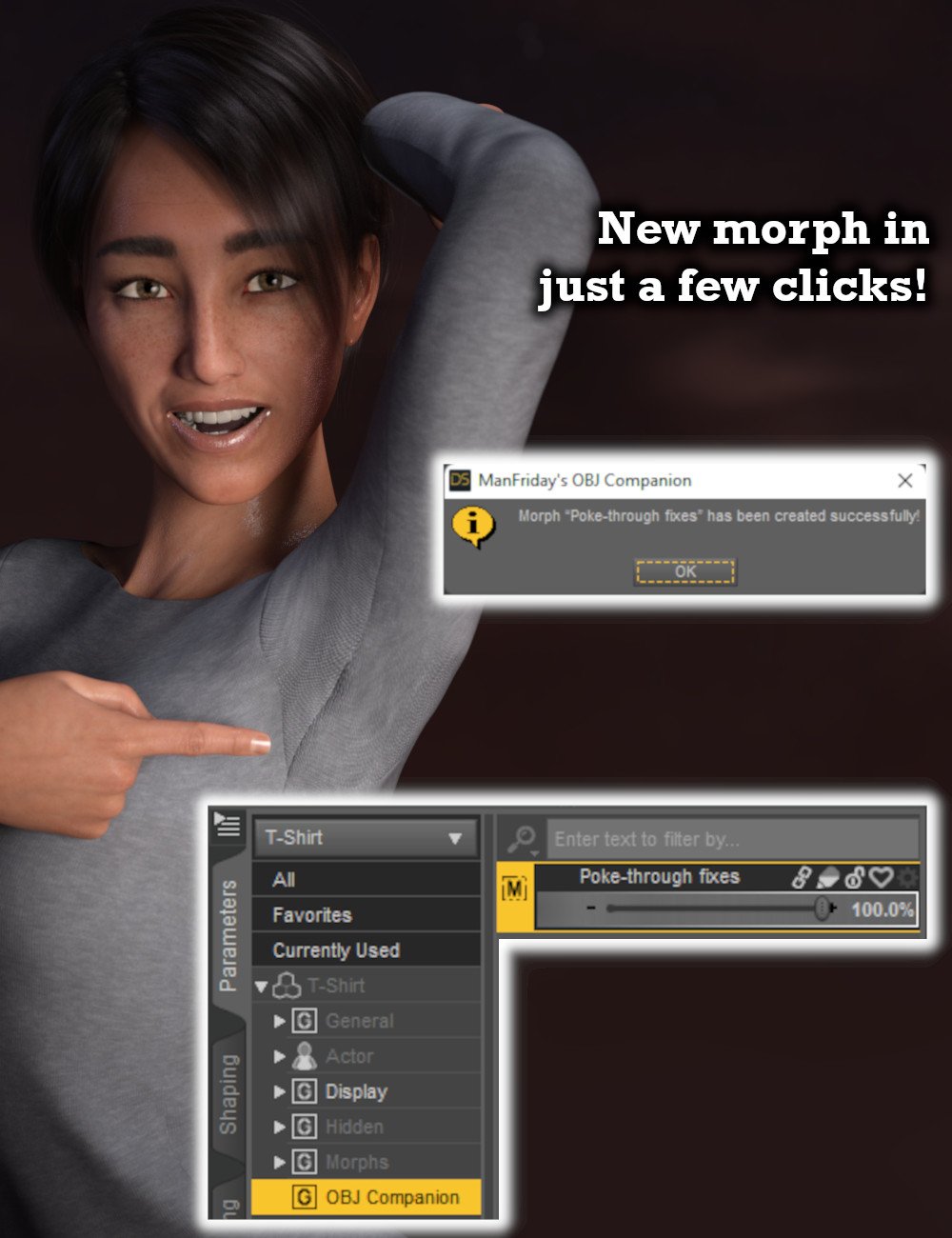 —————————————————————————————————————————
Details
The OBJ Companion is a plugin for Daz Studio 4.15 and above that makes creating morphs using OBJ files easier.
If your favorite modeling software (e.g. Blender) does not have an import/export bridge, exporting from Daz Studio and importing using Morph Loader Pro involves a lot of clicks. And if you get one of these clicks wrong, Morph Loader Pro will tell you "geometry did not match" on import. In the worst case, this can mean that hours of modeling work have been wasted.
The OBJ Companion adds a new pane to Daz Studio with two big buttons for "export" and "import", which can reduce the number of required clicks by a factor of 10 or more and greatly reduce the potential of getting one of the settings wrong.
—————————————————————————————————————————
The workflow becomes very simple:
1. Select scene nodes to be exported
2. Press "export" button on "OBJ Companion" pane and adjust default options if necessary
3. Work on the exported OBJ in your modeler (e.g. Blender) and export modified OBJ
4. Pick modified OBJ in OBJ Companion again and press "import" – Done!
The OBJ Companion eliminates typical export errors that can cause import to fail later by switching to base resolution; hiding the Genesis "eyelashes" and "tear" nodes; hiding rigid follow nodes on clothing; hiding geometry shells and geografts. It also temporarily unparents the selected nodes.
You can even export multiple OBJs in one go with automatic naming by using naming templates.
This will make creating morphs for Daz Studio a lot more fun!
—————————————————————————————————————————
What's Included and Features
OBJ Companion (.DLL and .DYLIB)
New "OBJ Companion" pane for Daz Studio user interface
Two sections for export and import
"Export selected as OBJ" exports only the geometry that is currently selected in the scene (automatically hides nodes that are not selected)
Can export many OBJs into multiple files in one go, using naming templates
Maintains export settings ideal for Blender with sensible scaling
Automatically unparents scene nodes as needed
Automatically hides rigid follow nodes (optional)
Automatically hides geometry shells
Automatically hides geografts (optional)
Automatically switches nodes to base resolution (optional)
"Export" dialog window with many options that can be changed for the selected nodes if necessary
"Import" edited OBJ file from disk by running Morph Loader Pro silently on selected scene node with tailored settings
Can automatically name new morph according to OBJ filename
Shortcut to "Reverse deformations" setting
Set limits on new morph
Can automatically dial up the new morph for testing
"Go to morph dial" to switch to the newly created morph in the Parameters pane
Practical and comprehensive PDF documentation
—————————————————————————————————————————
Notes
This product includes:
1 Windows Installer
1 Mac OS Installer
—————————————————————————————————————————
Thanks for stopping by.
Want to see more of my posts?
Just CLICK HERE!
—————————————————————————————————————————