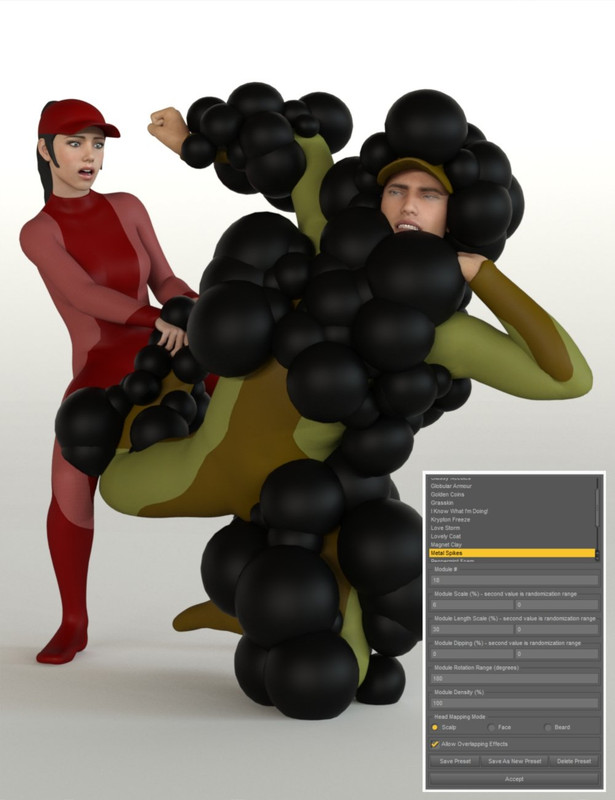 NebulaFX – Modular Effects for Genesis 8
Want the magic of Daz Studio instance rendering right at your fingertips?
NebulaFX – Modular Effects is a collection of 16 configurable effects you can apply to Genesis 8 Male/Female figures.These effects allow you to create quick rendering geometry on individual figure surfaces (chest, abdomen, pelvis etc, and even scalp-only, face-only, beard-area-only, individual finger sections etc), from one of the provided modular shapes like spheres, cubes etc, or more sophisticated modules like crystals, hearts and more.
Just select the figure part and click the NebulaFX icon. A dialog appears to let you choose one of the presets or to configure your own effect. Click 'Accept' and the effect is created on the surface you have selected.
The effect is undoable so that you can refine the parameters or choose a different preset.For each effect, the master module is available at the bottom of the 'Scene' pane and you can edit it's surface shaders if you want, which will change the surface of all the geometry created from that particular module.
You can save your own custom presets for later use and you can even create your own modules by saving standard Daz Studio props to the same folder where the default modules are (make sure you name them in a way similar to the default modules). After installation, the NebulaFX icon is available in the 'Scripts/ATGL/NebulaFX/' folder.
This set is perfect for those who like results that are just a few clicks away, and also those who love great customization potential!
https://www.daz3d.com/nebulafx--modular-effects-for-genesis-8