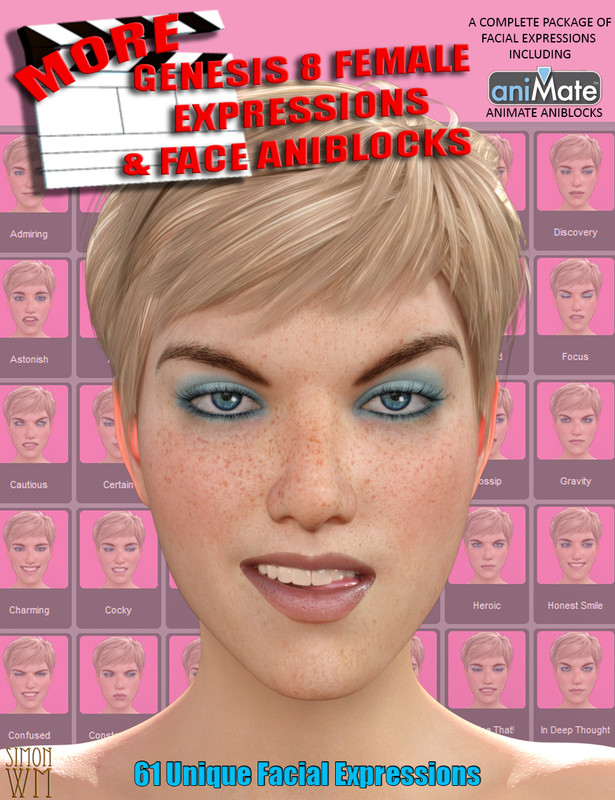 More Genesis 8 Female(s) Expressions & Face aniBlocks
Your facial expression library just got an upgrade with this new set of 61 brand new female expressions created exclusively for Genesis 8 Female that highlight her femininity and magnetic personality. Plus no need to browse through endless sliders with the same name and no icon to find that perfect expression for your illustration or animation. These expressions sliders and aniBlocks all come with a clear icon for visual reference and labeled with a descriptive name so it is easier for you to find what you need. These 61 unique expressions with its well organized, easy to find visual library will be your preferred goto resource for any Genesis 8 Female(s) project.
aniMate makes it easy to assemble an animated sequence in Daz Studio and with this set you can impart facial acting that belongs with the motion aniBlock your character is using. Drop your facial expression block in the timeline and and slide or stretch it until you get the acting you are looking for. Create your own expression by combining different layers of facial aniBlocks and choreograph your actor's emotions with your unique sequence of facial aniBlocks.
Directing your virtual actors for your next static or animated project has never been easier!
https://www.daz3d.com/more-genesis-8-females-expressions--face-aniblocks