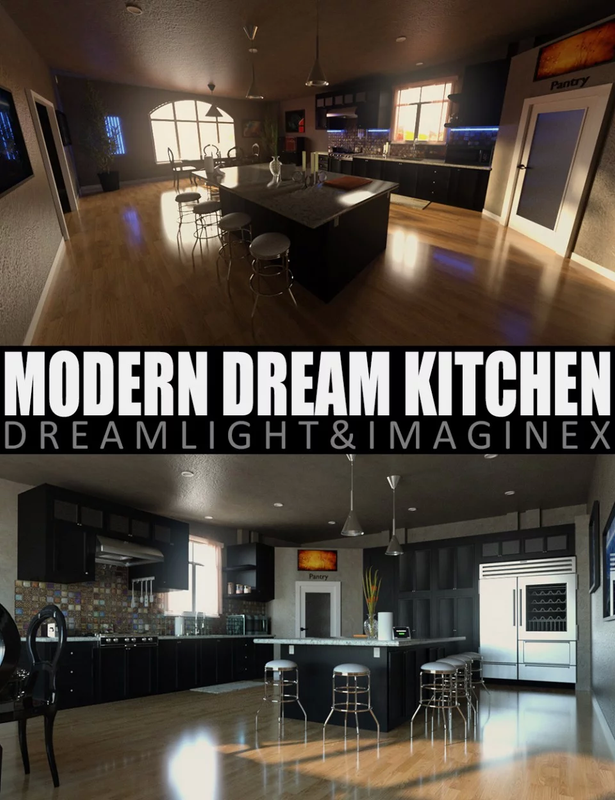 Modern Dream Kitchen
Artist: Dreamlight ImagineX
Compatible Figures: N/A
Compatible Software: DAZ Studio 4.11
Install Types: Daz Connect Install Manager Manual Install
Step into the modern dream kitchen where all the magic happens, as Dreamlight and ImagineX team up.
Experience beautiful DAZ Studio Iray renders right out of the box, with detailed modeling, realistic textures and stunning lights with lots of moods, presets and even manual control down to the candle flames.
Unlimited variations, giving you that special mood you need. Detailed light instructional video included – It's time to cook!
What's Included and Features
Modern Dream Kitchen (.DUF)
Single Icon Load All
Smaller parts can be moved, removed or easily duplicated
Base
Front Wall
Right Wall
Ceiling
Large Window
20 Cabinets (openable)
8 Island Cabinets (openable)
10 Glass Cabinets (openable)
Cutting-Board
Paper-Towel-Holder With Roll
Decorative Vase
6 Bar Stools
4 Dining Chairs
Dining Table
Dining Area Cabinet
Jar 1
Jar 2
Jar 3
Floor Mat
Small Window Curtain Panel
Small Window Valance
Dried Flowers
Potted Tree
Pantry Door And Handle
Microwave-Oven
Toaster
Painting 1
Painting 2
Painting 3
Painting 4
Painting 5
Painting 6
Pot-Rest
Smart Home Device
Utensil-Holder With Utensils
Security System
Napkin-Holder with Napkins
9 Drawers (openable)
Advanced Dreamlight light set
All versions include the same components, with various settings turned on/off for various looks
Can be pre-loaded for instant rendering, or manually adjusted down to the candle flames
Light Scene Presets
Sunny Day 1 (candles turned off)
Sunny Day 2 (no candles)
Night 1 (candles and neons)
Night 2 (candles and moonlight "power failure version")
Night 3 (ceiling lights and neons)
Sunset 1 (candles off)
Sunset 2 (no candles)
Light Scene Preset Components (with manual control)
Neon Lights
Kitchen Table
Wall Panel 1
Wall Panel 2
Wall Panel 3
Wall Panel 4
Wall Panel 5
Pantry Ceiling
Cabinet 1
Cabinet 2
Cabinet 3
Candles
7 Candles with candle holder
7 candle flames with custom flame effects and lighting
Each candle flame has 10 non-flat flame effects that can be scaled and adjusted individually for extremely realistic flames and lighting
10 Camera presets
16:9 screen ratio, ready to render out of the box exactly as in the promo images
Promo images are untouched
Main Lights
Sun Light Day
Uses internal Iray Sun-Sky System and an extra light
Sun Light Sunset
With custom HDRI map and an extra light
Moonlight Night (optional)
With custom HDRI map and extra light (the moonlight is optional)
All main lights with manual position control and easy aiming
Iray Render Presets
Sunny Day
Night
Sunset
Ceiling Light Control Icons
Kitchen Table Lights ON
Kitchen Table Lights OFF
Black Table Lights ON
Black Table Lights OFF
Ceiling Spots ON
Ceiling Spots OFF
Overall Intensity Icons
INT 60
INT 80
INT 100
INT 120
INT 140
INT 160
INT 180
INT 200
INT 220
INT 240
INFO Icon with additional information on how to use the light set
BONUS: 21 min light instructions video with detailed information on how to get the best of the presets and manual control. 1600 x 900 WMV format.
Textures Include:
64 Texture Maps (533 x 576 to 5184 x 3456)
**************************************
More items like this HERE!
**************************************
https://www.daz3d.com/modern-dream-kitchen


You need to be a member to see this