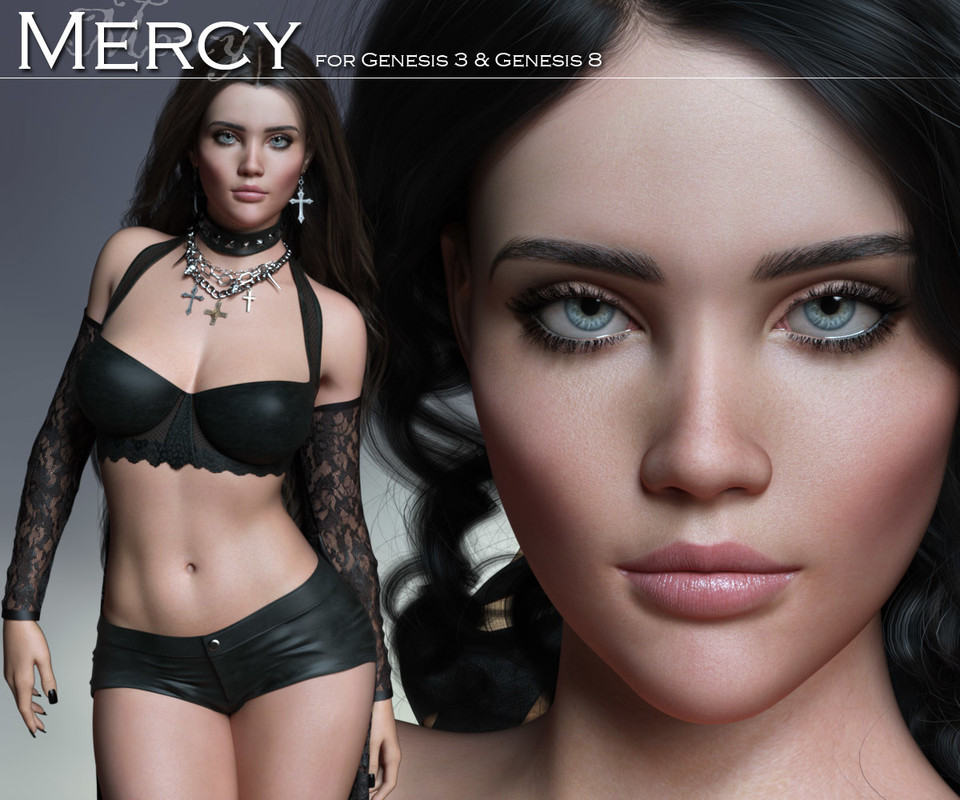 Mercy for G3 and G8 Females
Mercy is a stunning new blue-eyed beauty for Genesis 3 and Genesis 8.
Mercy's head and body morphs are custom shapes and do not require the Genesis 3 or Genesis 8 Body Morph packs. There are also separate morph injections and rems for nipples and navel to use when needed.
Mercy's pack includes:
– 1 Full INJ/REM
– 1 Body INJ/REM
– 1 Head INJ/REM
– 1 Navel INJ/REM
– 1 Nipples INJ/REM
– 1 Nails Long Round INJ
– 1 Nails Long Square INJ
– 1 Nails REM
– 1 Full Body Iray MAT
– Pubic ON and Pubic OFF Options
– Lashes Default and Lashes Thicker Options
– 13 Makeup Options
– 3 Full Makeup Options plus Reset
– 13 Lip Colors Options
– 1 LessGloss Option
– 1 More Gloss Option
– 7 Eye Color Options
– 10 Nail Color Options
Mercy's Full INJ applies the head, body, nipple, and navel shapes.
Mercy's Body INJ applies only the body shape.
Mercy's Head INJ applies only the head shape.
Included in the Lip Color folder, are two special applications to apply after choosing a lip color … one for LESS gloss and one for MORE gloss.
Please note that Daz Studio 4.9.4.121 or higher is required in order to use the Genesis 8 Figure.
https://www.renderosity.com/mod/bcs/mercy-for-g3-and-g8-females/143394


You need to be a member to see this
Warning !! Secure Your Connection Before You Start Downloading !!