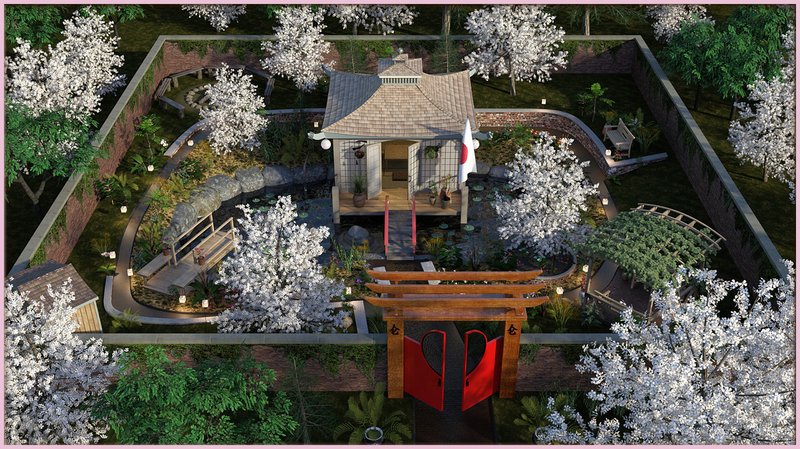 Japanese Garden for DS
Come in and sit for a while in this beautiful Japanese Garden. Built for IRay.
Loaded with 102 props that can be used in any scene you like.
Simply load the Complete Preload Scene Subset to put everything exactly where it should go.
This Preload takes advantage of Instances to be easy on your system resources.
You can also build your own scenes one prop at a time if you like. Or move mine around.
A lot of the props have switches in the Pose Controls to snap them in different locations around the Garden.
Even comes with some simple Koi fish for the pond.
The Pond Water has morphs for up and down and a breeze effect to give it a little ripple.
The Tea House has a wall inside that is hidden by default.
That wall allows a smaller sitting area inside to give you a larger sitting area outside.
All walls and the roof may be hidden for easy camera work.
Individual props can load at world Zero for easy use in other scenes.
See the product features for a full list of the many props in this monster set.
Enjoy!
~~~ What's Included and Features ~~~
~~~ Scene Subset Presets ~~~
Complete Preloaded Scene
Benches Wooden in Sitting Area
Boulders Group
Fire Pit Group North East
Fire Pit Group North West
10 Different Flower Group Presets
Flowers All Group
Garden Lanterns
3 Different Grass Clump Presets
Paper Lanterns Roof Group
10 Different Plant Group Presets
Plant Groups All
Potted Plants Group
Potting Shed Filled
Table & Mats for Large Room
Table & Mats for Small Room
Tea House Large Room Group
Tea House Small Room Group
7 Different Tree Group Presets
Tree Groups All
Wooden Bench Group
~~~ World Zero Props ~~~
Stone Bench
Bench Wooden with controls
3 Different Boulder Props
Branch
Bridge
3 Different Broken Pot Props
10 Different Clay Pot Props
Clay Pot Small On Side
3 Different Clay Pot Small Painted Props
Clay Pot Small
10 Different Clay Potted Plant Props
Fan Light with controls
Fire Pit Bench 1 with controls
Fire Pit Bench 2 with controls
Fire Pit with controls
9 Different Fish Props
3 Different Fish School Props
Flag with controls
Floating Candle
10 Different Flower Props
Garden Lantern
Garden Walls
3 Different Grass Clump Props
Grounds or Property
Hanging Pot & Ivy with controls
Paper Lantern with controls
Pier
Pillow
10 Different Plant Props
Pond Fill Pipe
Potting Shed with controls
Potting Soil Pile
Tatami Mat Large
Tatami Mat Medium
Tatami Mat Small
Tea House Table with leg length control
Tea House with many controls including hide show parts
7 Different Tree Props
Trellis with Vines Hide able
Trellis no Vines
Water with Morphs
Wind Chime with controls
~~~ Cameras ~~~
50 Camera Presets
~~~ Iray Material Options ~~~
Fan Light Off
Fan Light On
Fan Golden Light
Fan Light On Brite
Floating Candle Off
Floating Candle On
Garden Lantern Off
Garden Lantern On
Paper Lantern Off
Paper Lantern On
Bridge Lights Off
Bridge Lights On
Potting Shed Off
Potting Shed On
Potting Shed On Brite
Textures Include
1170 Texture, Displacement, Normal, and Specular Maps (20 x 103 to 4096 x 4096)
Daz Studio Iray Material Presets
https://www.renderosity.com/rr/mod/bcs/japanese-garden-for-ds/136585/


You need to be a member to see this