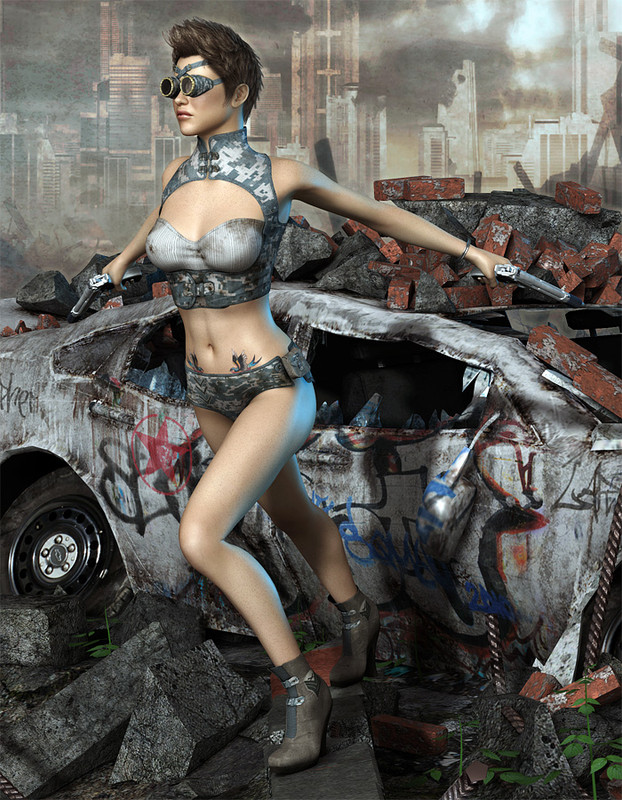 Janie's Got A Gun
Janie's got a gun
Her dog day's just begun
Now everybody is on the run
Because Janie's got a gun
Aerosmith
Product Includes:
Janie's Got A Gun is a highly detailed texture expansion for the Mad Jane clothing pieces. Within you will find three sets of expertly detailed high resolution textures.
Dirty universal camouflage with worn military patches and tapes, ribbed cotton jersey, brass military buttons and olive leather & twill.
Sci-Fi inspired white leathers with a glowing map of lights. *Note that these sci-fi inspired textures work best when rendered in darker lighting environments as they rely heavily upon ambient values and colors (they will still render under bright lights, but the effect will not be as prominent). When rendered with IDL the glowing bits will serve as a light source.
Worn black motorcycle leathers with detailed stitching, appliqued wings, leopard print, screen printed jersey and studded button details.
***** Promo link not available *****

Required Product:Mad Jane
You need to be a member to see this