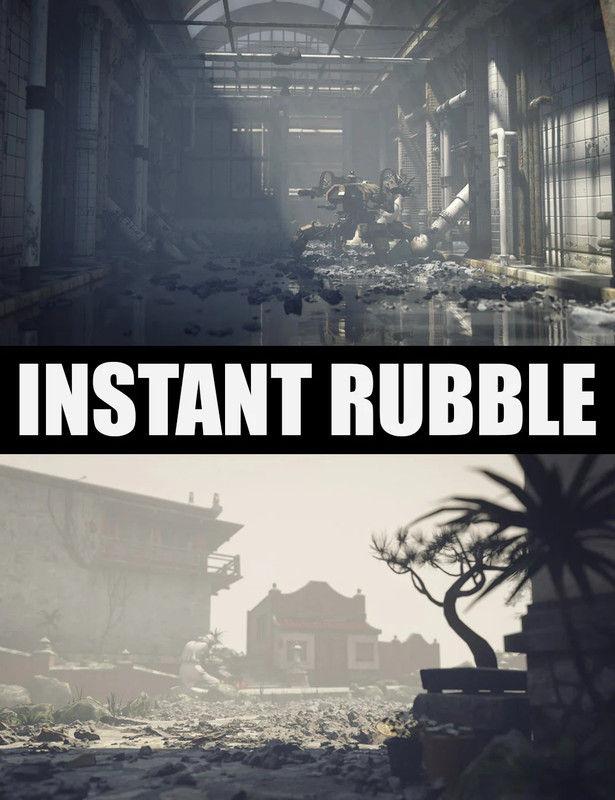 Instant Rubble
Great art is all in the details! Instant Rubble helps you instantly add authentic-looking rubble to any indoor/outdoor scene, and make your renders look worn, destroyed, or abandoned.
Versatile prop with multiple clusters that can be moved, rotated, tilted, scaled, or duplicated… Creates unique patterns depending on the height, including complete piles or just scattered pieces, fully adjustable to any scene in no time.
Get Instant Rubble and build your abandoned, deserted, destroyed, and bleak environments and scenes today!
What's Included and Features
Instant Rubble: (.DUF)
Instant Rubble:
Can be added to any scene, both outdoors and indoors
Extreme close up details!
17 rubble props (large/small) with individual scale, position, and rotation control
Main Rubble object controls all 17 props
Rubble 1 object controls the 10 big props
Rubble 2 object control the 7 small props
Easily elevate or sink the entire set or portions into the ground for instantly different patterns and effects
Remove props for faster rendering
Duplicate props for extra detail
Use with water and fog for extremely realistic renders
Compatible with After Rain, After Rain 2, and Instant Fog
Textures Include:
4 Texture, Bump, Diffuse, and Specular Maps (3000 x 3000 to 4096 x 4096)
DAZ Studio Iray Materials