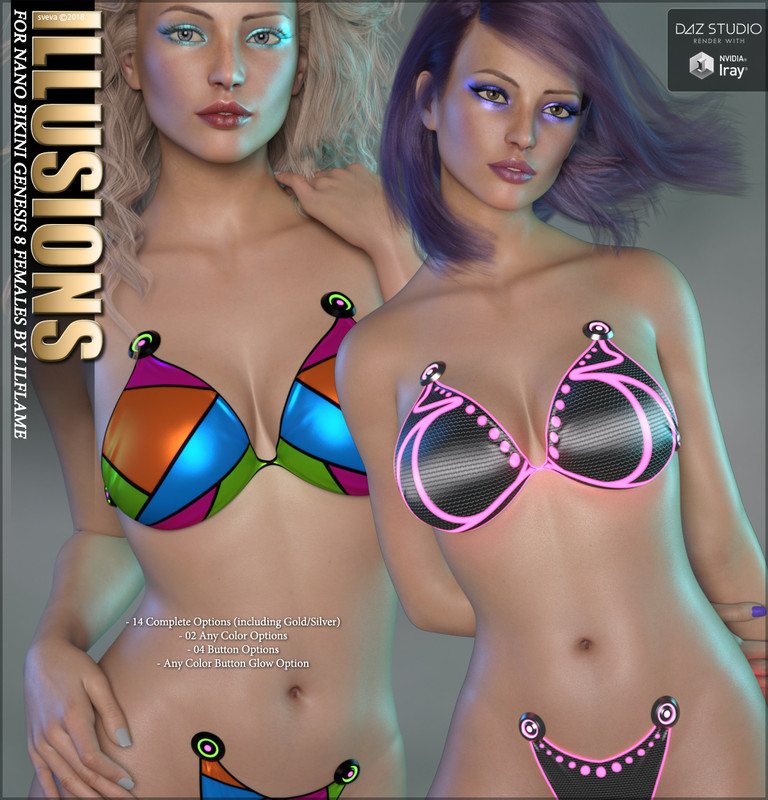 Illusions for Nano Bikini Genesis 8 Females
Illusions for Nano Bikini Genesis 8 Females by Lilflame
– 02 Any Color Iray Materials for the Top
– 02 Any Color Iray Materials for the Bottom
– 01 Any Color Iray Emission Option for the Button
– 04 Iray Materials for the Buttons (works on both top/bottom)
– 01 Silver Iray Material Set for the Top/Bottom
– 01 Gold Iray Material Set for the Top/Bottom
– 14 Iray Materials for the Top (including the Silver/Gold Options listed above)
– 14 Iray Materials for the Bottom (including the Silver/Gold Options listed above)
– The "any color" materials can be made any color. The "metallic flakes" can be adjusted to any color on the Gold/Silver Iray Options or any of the other sets that use "metallic flakes", simply select the top or bottom, go to the surfaces tab, select the surface you wish to change, you should scroll down to find the metallic flake setting and change color to your choice.
– Any "metallic flake" color used on ANY of the materials can be changed to suite your needs and give you unique looks!
– Any of the Glossy Colors used can also be changed to anything you like!
– Thank you!
– SVs GLOW Iray Lighting by Sveva
– SVs COLOR Splash Iray Lighting by Sveva
– Character Skin by P3Design
– Character by Mousse
– Poses by Dragonfly3D and Zeddicus
[For Educational and Evaluation Purposes ONLY]
[Like it? Buy it!]
https://www.renderosity.com/mod/bcs/illusions-for-nano-bikini-genesis-8-females/126910/

Required Product:Nano Bikini G8F LF
You need to be a member to see this