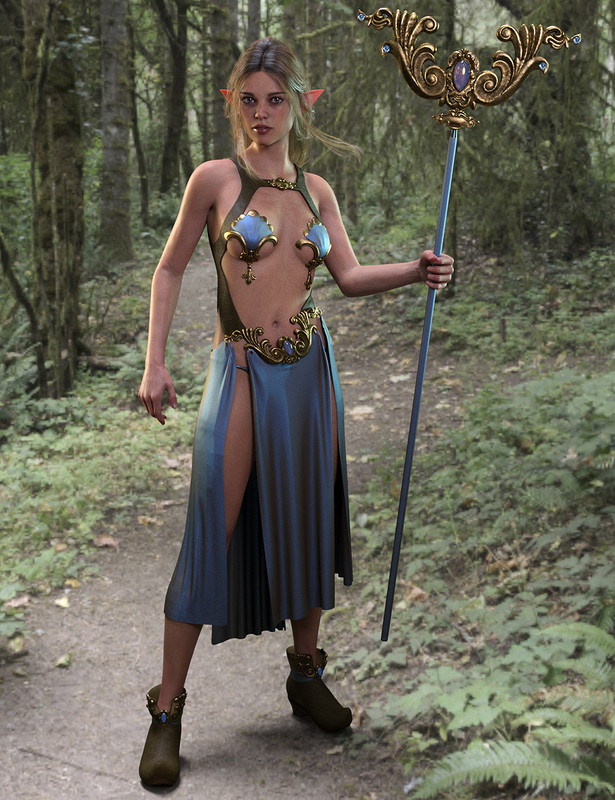 Illusion Armor for Genesis 8 Females
This beautifully crafted fantasy set for Genesis 8 Female(s), includes a bodysuit which is dForce compatible, boots, panty, and magic staff.
Delicate yet powerful. Your mages, clerics, elfs and faeries can now fight their opponents in style!
The intricate metal detailing adds a touch of nobility to your spellcaster and the flowing skirt gives her an air of elegance – a classic fantasy feeling for your renders.
Add-ons for this product
(https://www.renderosity.com/mod/bcs/heroine—illusion-armor-for-genesis-8-females/140141)
(https://www.renderosity.com/mod/bcs/avariel-for-illusion-armor/140193)
Illusion Armor for Genesis 8 Female(s): (.DUF)
Illusion Armor !Outfit
Illusion Armor Bodysuit:
Loosen Cloth Back
Loosen Cloth Front
Loosen Cloth Left
Loosen Cloth Right
Cloth Gather Back
Cloth Gather Front
Cloth Gather Left
Cloth Gather Right
Back Cloth Forward-Back
Back Cloth Side-Side
Back Cloth Twist
Front Cloth Forward-Back
Front Cloth Side-Side
Front Cloth Twist
Left Cloth Forward-Back
Left Cloth Side-Side
Left Cloth Twist
Right Cloth Forward-Back
Right Cloth Side-Side
Right Cloth Twist
Illusion Armor Panty:
Loosen _Hip
Loosen_Buttocks
Loosen_Gens Area
Illusion Armor Boots:
Adjust_Shin_Back_L
Adjust_Shin_Back_R
Loosen_Boot_L
Loosen_Boot_R
Loosen_Boots_Both
Many Supported Shapes:
Includes four material/texture sets/themes for the set:
Blue and Gold
Red and Silver
Metal colors can be mixed and matched
Textures Include:
100 Texture, Bump, Displacement, Normal, Reflection, Specular, and Transparency Maps (512 x 512 to 4096 x 4096)
Texture Templates available through the Product Library
Daz Studio Iray Material Presets (.DUF)
Smart Props Included:
Illusion Armor Staff Right Hand
Illusion Armor Staff Left Hand
Zero Props:
Illusion Armor Staff
Material Options:
Blue and Gold
Red and Silver
Textures Include:
18 base color, metalicity, roughness, normal and height, maps corresponding to each of the clothing and/or prop files included (4096 x 4096)
Daz Studio Iray Material Presets (.DUF)
https://www.renderosity.com/mod/bcs/illusion-armor-for-genesis-8-females/139635


You need to be a member to see this