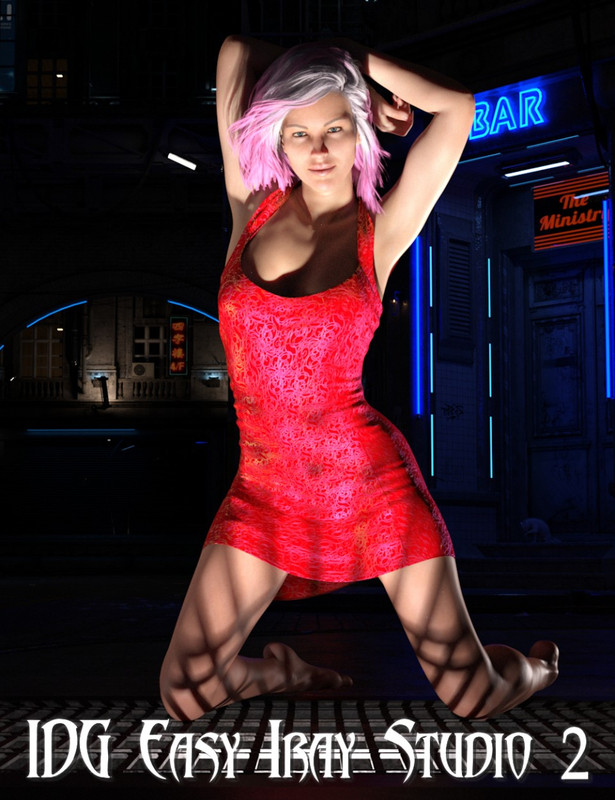 IDG Easy Iray Studio 2
Fun and flexible, easy and robust, IDG Easy Iray Studio 2 brings you plenty of new lighting option in a quick and easy to use format. Suitable for one-click lighting solutions while also versatile enough for the advanced user or anyone in-between. Built around the same concepts as IDG Easy Iray Studio, this set adds Emissive Lights using IES Profiles and HDRI textures to your tool kit, along with a revised set of Daz Studio Default Point and Spotlight sets.
IDG Easy Iray Studio 2 brings you 74 pre-made lighting scenes (37 Left plus 37 Right) that you can just load up and render, or quickly modify them to fit your scene's unique needs. Alternately, you can use one of the 10 pre-made light sets with one of the included 40 light poses to create your own unique light setup. Additionally, you can use any of the included lights as solo, individual lights that you can move or position wherever you need them.
IDG Easy Iray Studio 2 includes 6 Daz Studio Default Point Lights, 6 Daz Studio Default Spotlights and 9 Emissive Light Models. Plus, a full set of adjustment settings for each type of light and 20 Emissive Light props that help modify or focus the light created by the Emissive lights.
IDG Easy Iray Studio 2 also includes 6 backdrop props plus 88 texture backdrop options optimized for the Iray render engine. The paper roll materials are interchangeable with those from the previous Portrait Studio products (1 &2) and IDG Impact Lighting.
There are also 24 individual light movement controls, 10 light color temperatures for each of the lights, or the whole set at once, 10 matching white balance render presets, and 4 render quality settings. A detailed user's guide will get you up and running quickly.
https://www.daz3d.com/idg-easy-iray-studio-2


You need to be a member to see this