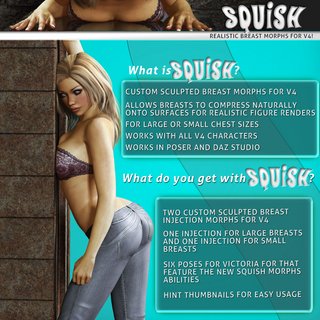 I13 Squish Breast and Glute Morphs for V4 Bundle
Bundle pack includes: i13 Squish Breast morphs for V4
i13 Squish Glute morphs for V4
i13 SQUISH SOFT BODY breast effects for V4*
* (Note i13 SQUISH SOFT BODY breast effects for V4 is for Poser and not Daz)
SQUISH breast morphs for V4! These are custom sculpted morphs for v4 that
allow her breasts to compress naturally onto surfaces for more natural figure renders.
2 morphs included, one for large breasts and one for small
Usage Tips:
1. Select V4's BODY
2. Load Squish Large or Small or both – the morphs load at values of zero, so you can load
and adjust as desired
3. These INJ morph dials are located under Injection Channels: Community
4. Try different dial settings to find the settings that look best on your character.
Works with all v4 characters
Works and supported in poser and daz studio
https://www.renderosity.com/rr/mod/bcs/i13-squish-breast-morphs-for-v4/91154

Required Product:Victoria 4.2 Pro Bundle