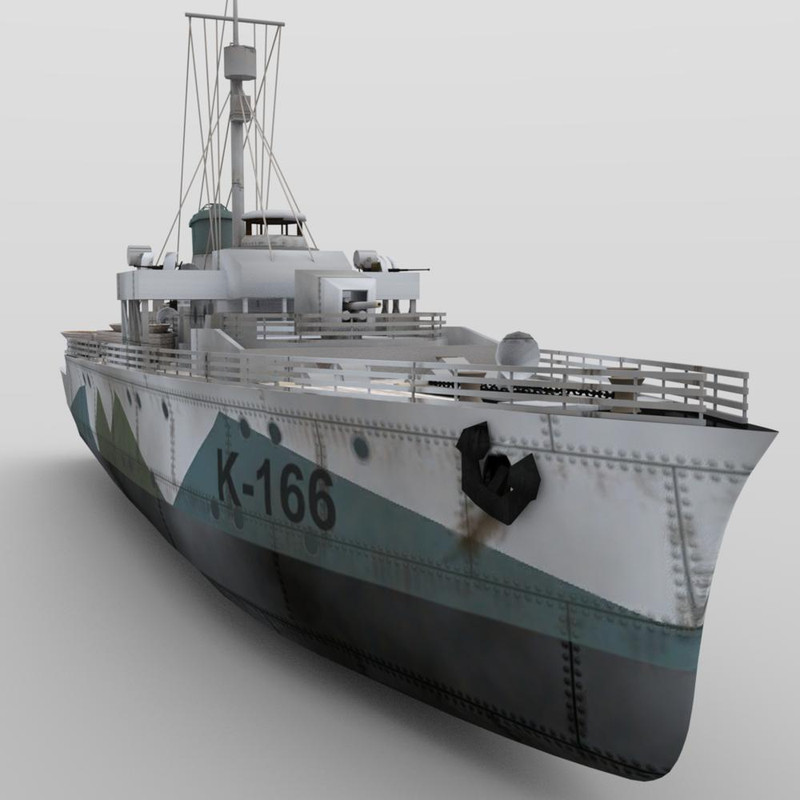 HMCS Snowberry for DAZ Studio
The months leading up to World War II saw the RN return to the concept of a small escort warship being used in the shipping protection role. The Flower class was based on a whale-catcher design and apparently Winston Churchill labelled them "corvettes", thus restoring the title for the RN. As such, there is no linear link between the Flower class and the cruising vessels of pre-1877.
There are two distinct groups of vessels in this class: the original Flower class which was a group of 225 vessels ordered during the 1939 and 1940 building programs; and the modified Flower class which followed with a further 69 vessels ordered from 1940 onward. The modified "Flowers" were slightly larger and somewhat better armed.
In addition, those Flower-class vessels which saw service with the USN are also known as Action-class gunboats and carried the hull classification symbol PG (Patrol Gunboat), regardless of whether they were original or modified designs.
HMCS Snowberry was a Royal Canadian Navy Flower class corvette which took part in convoy escort duties during WW2.
Snowberry was laid down on 24 February 1940 and launched on 8 August 1940. She was ordered by the Royal Navy(RN) but was transferred to the RCN prior to completion. She was commissioned into the RCN on 26 November 1940
Product Features:
DAZ Studio props: dsf, duf/ png:
* HMCS Snowberry, at 13,156 polygons
Pose-able features (some 70 moving parts in total) include:
– Rudder, with a Pose Control dial on the Body
– Propellers, with a Pose Control dial on the Body
– Aircraft launch platform, with a Pose Control dial on the Body
– Main and Secondary Gun Turrets that can rotate with Barrels that can elevate independently
– Cargo Cranes
– Functioning Spot-lights and Gun Directors
– Pose-able Aircraft Catapults and Crane.
* All Anchors Down, at 4,032 polygons; no moving parts
* Anchors Up, at 112 polygons; no moving parts
* Single Anchor Down, at 2,072 polygons; no moving parts
Textures:
* One set of texture maps with corresponding bump maps, at 3000×1800 pixels.
* All of the materials use Iray shaders.
All sales images rendered in DAZ Studio with an HDRI skydome environment.
Designed for use in DAZ Studio 4.9 and above with Iray. Not recommended for use in other software programs.
Original model by, and acquired from Chris Schell, and now owned by VanishingPoint.
https://www.renderosity.com/rr/mod/bcs/hmcs-snowberry-for-daz-studio/148992/


You need to be a member to see this