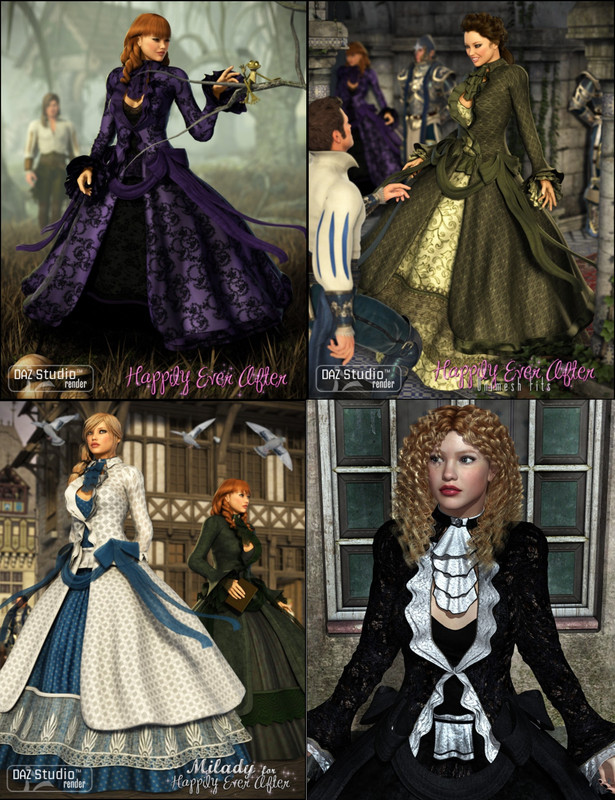 Happily Ever After + Milady + Velvet & Lace for V4
Bring fantasy to life with Happily Ever After, a stunning five-piece ball gown collection for Victoria 4. This 3D female clothing set includes skirt, jacket, top, ruffled choker and ribbons, all meticulously stitched in velvety purple fabric with elaborate lace detail - this beautiful dress will make any princess's dreams come true. Also includes Unimesh Fits for Aiko 4, Stephanie 4, Victoria 4 Elite and the Girl 4 to Happily Ever After for V4. This 3D female clothing also includes a new texture set.
Milady is ready to go out and she must look her best! Choose between summery blue and autumnal green with these two gorgeously crafted texture sets for the Happily Ever After for V4 collection.
With Velvet and Lace for the Happily Ever After Outfit, velvets, satins and lace come together to create two lovely gowns. Dress your princess in classic black-and-white or sparkling silver-and-blue -- either way, she'll turn heads.
https://www.daz3d.com/happily-ever-after-for-v4
https://www.daz3d.com/happily-ever-after-v4-unimesh-fits
https://www.daz3d.com/milady
https://www.daz3d.com/velvet-and-lace-for-happily-ever-after


You need to be a member to see this