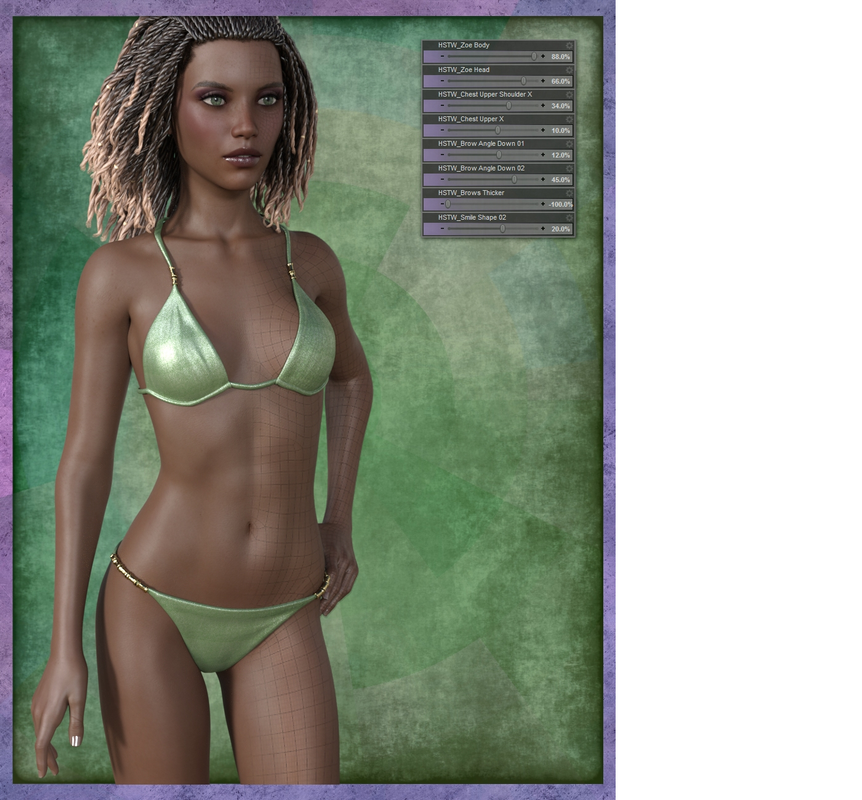 Genesis 8 Female Mixed Morph Kit -Repost
Details
Introducing the Genesis 8 Female Body Head and Body Mixed Morph (Merchant) Resource kit! This package contains 75 all new Head and Body shaping morphs, including some character preset morphs, to be used with the Genesis 8 Female and her Add-On Characters. Please see the features list for a full listing of all the included morphs.
Note: These morphs are new and custom made for the Genesis 8 Female.
All our Morph Kits are merchant resource packs for the characters for which they were created. This means you may use these morphs in combination with your own modeling or other sources to create beautiful new characters for the Genesis 8 Female for resale or brokering.
Please click HERE for important notes on usage permissions and guidelines:
More Genesis 8 Morph Resources to Come!
What's Included and Features
Genesis 8 Female Mixed Morph Kit (.DSF)
75 New Morphs for Genesis 8 Female:
Character Shapes:
Chloe Head
Chloe Ears
Chloe Smile
Chloe Body
Kaia Head
Kaia Chin Shape
Kaia Body
Salma Head
Salma Body
Zoe Head
Zoe Smile
Zoe Body
Full Head Shapes:
Head Heartface
Head Thin 02
Full Body Shapes:
Figure Thinner 01
Figure Waif
Full Body Curvy 02
Full Body Fantasy
Full Body Thin 02
Full Body Thin 03
Partial Head Shapes:
Brow Angle Down 01
Brow Angle Down 02
Brows Thicker
Cheek Define 03
Cheek Smile Lines
Cheek Temple Shape 06
Cheekbones Lower Define
Jaw Shape Round
Eye Corners Back
Nose Center Width
Nose Ridge Taper
Nose Round Flat
Nose Shape 02
Nose Shape 03
Nose Shape 04
Nose Tip Define
Lower Face Jaw Shape
Mouth Corners Down
Mouth Lip Lower Thick 01
Mouth Lip Lower Thick 02
Mouth Lip Upper Bow
Mouth Shape Bow
Mouth Shape Curves
Mouth Shape Full
Smile Shape 02
Upper Torso:
Collars Neck Thin
Shoulder Top Taper
Arm Upper Shape 01
Arms Shape 01
Chest Back Shape 01
Chest Collars X
Chest Collars Z
Chest Ribs Skeletal
Chest Shape 01
Chest Upper Shoulder X
Chest Upper X
Upper Chest Proportion
Breast Natural Flatten
Mid Torso:
Abdomen Line Adjust
Abdomen Muscular 01
Abdomen Muscular 02
Ribs Belly Smooth
Belly Shape 02
Belly Shape 03
Belly Shape Define
Torso Center X 01
Torso Center X 02
Lower Torso:
Hip Bones Prominent
Legs:
Thighs Back Reduce
Thighs Extremely Thin
Thighs Outer Reduce
Thighs Shape 02
Thighs Shape 03
Thighs Shape 04
Calves Extremely Thin
Reset All Shapes (.DUF)