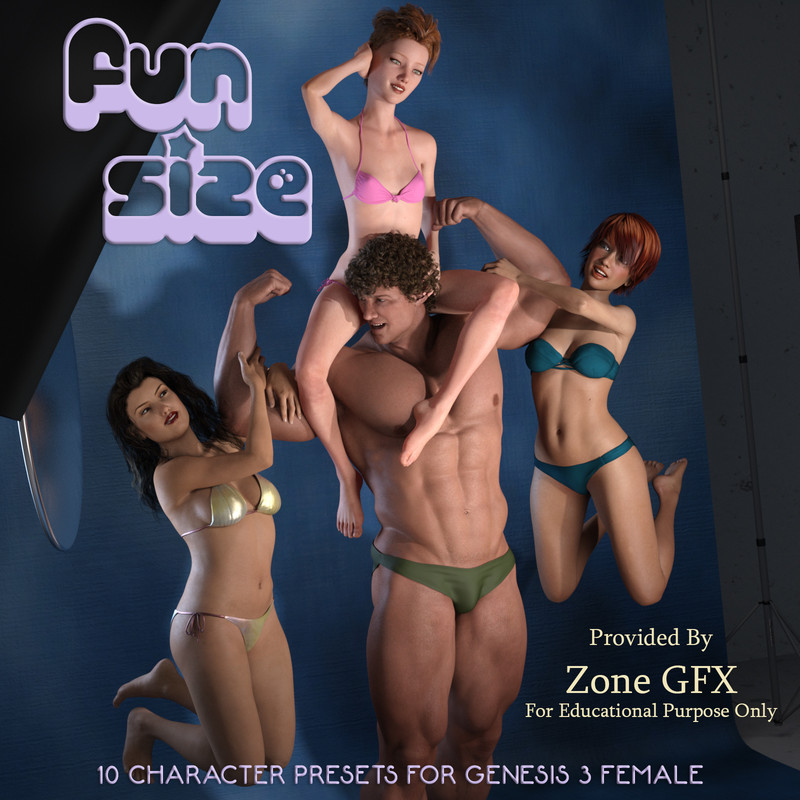 Fun Size for G3F
Ten Character Presets for Genesis 3 Female. Genesis 3 Female Head and Body Morphs required.
Fun Size is a set of adult models who are short in stature and petite in frame. Although they are smaller than your average Genesis 3 model, they still have very womanly curves!
IMPORTANT NOTE: The models are all set to a scale of 93%. The scale should maintain through various preset poses, however, be advised that if you use the Restore Figure Pose option (not the same as a zero pose option, which is okay) the model will be reset to 100% scale. To avoid this, simply lock the scale of your model. If you wish to use any full body sizing morphs however, such as Growing Up or Dwarfology, you will need to leave the scale unlocked.
What's Included:
Aolani Full Body Morph
Clarissa Full Body Morph
Fawn Full Body Morph
Gemma Full Body Morph
Geneva Full Body Morph
Ida Full Body Morph
Jantine Full Body Morph
Lara Full Body Morph
May Full Body Morph
Monica Full Body Morph
Files:
Aolani.duf
Aolani.duf.png
Clarissa.duf
Clarissa.duf.png
Fawn.duf
Fawn.duf.png
Gemma.duf
Gemma.duf.png
Geneva.duf
Geneva.duf.png
Ida.duf
Ida.duf.png
Jantine.duf
Jantine.duf.png
Lara.duf
Lara.duf.png
May.duf
May.duf.png
Monica.duf
Monica.duf.png
https://www.renderosity.com/mod/bcs/fun-size/115383/

Required Product:Genesis 3 Female Head and Body Morphs
You need to be a member to see this