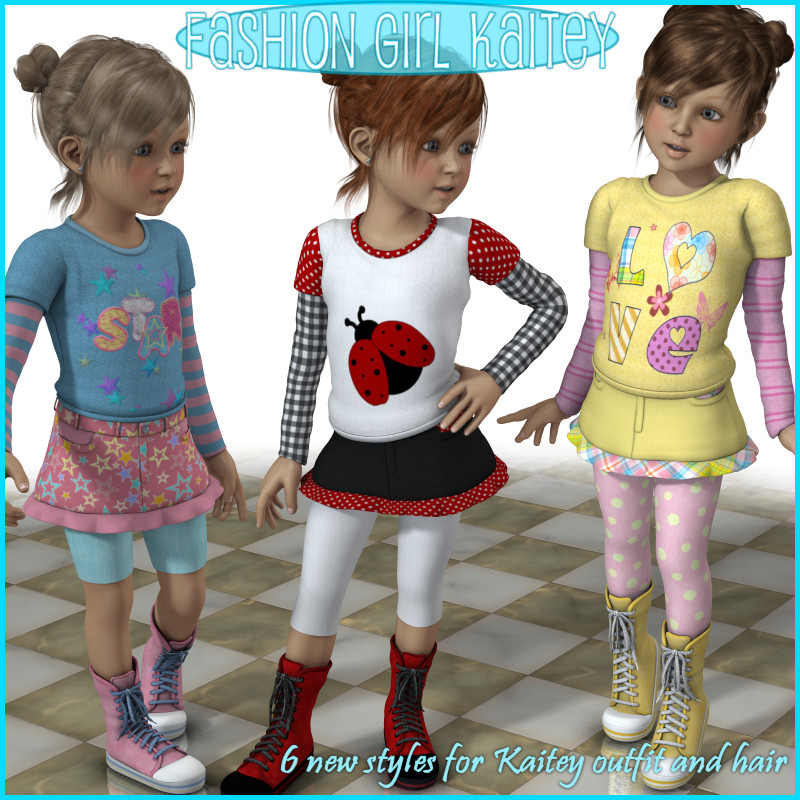 Fashion Girl for Kaitey for Kids 4
It's time to update your K4 wardrobe with 6 refreshing new styles for Kaitey outfit and hair.
Fashion Girl Kaitey breathes new life into a classic outfit and hairstyle.
Shirt, Dress, Tights, Hightop shoes, and Hair
PLUS partial mat poses to hide the long sleeves on the shirt and change the tights to leggings, capris, shorts or panties.
Fashion Girl Kaitey is a must have style expansion pack for Kaitey clothing and hair by 3DUniverse.
*-*-*-*-*-*-*-*-*-*-*-*-*-*-*-*-*-*-*-*-*-*
Fashion Girl Kaitey
*-*-*-*-*-*-*-*-*-*-*-*-*-*-*-*-*-*-*-*-*-*
6 new styles for Kaitey Outfit and Hair
by 3DUniverse
*-*-*-*-*-*-*-*-*-*-*-*-*-*-*-*-*-*-*-*-*-*
Highly detailed textures
*-*-*-*-*-*-*-*-*-*-*-*-*-*-*-*-*-*-*-*-*-*
6 Styles for the SHIRT
…Aqua and purple Bunny
…Yellow Multi Love
…LadyBug
…Blue and Pink Star
…Black White and Green Apple
…Rocker Red
6 Styles for the SKIRT
…Purple
…Yellow
…Black and Red
…Pink Stars
…Green Apple Print
…Denim
6 Styles for the TIGHTS
…Purple with multi dots
…Pink with yellow dots
…White
…Blue
…Green
…Black
6 Styles for the SHOES
…Purple
…Yellow
…Red
…Pink
…Black & Green
…Black & White PolkaDots
6 Styles for the HAIR
…Medium Brown
…Blonde
…Auburn
…Copper
…Dark Brown
…Raven
PARTIAL MAT POSES
…Leggings
…Capris
…Shorts
…Panties
…Short Sleeves
*-*-*-*-*-*-*-*-*-*-*-*-*-*-*-*-*-*-*-*-*-*
Information
*-*-*-*-*-*-*-*-*-*-*-*-*-*-*-*-*-*-*-*-*-*
Poser 6+
Not tested in Daz Studio. Minor shader tweaking may be required.
Requires Kaitey for Kids4 by 3DUniverse http://www.daz3d.com/shop/kaitey-for-kids-4
*-*-*-*-*-*-*-*-*-*-*-*-*-*-*-*-*-*-*-*-*-*
Fashion Girl Kaitey See Editorial for More
*-*-*-*-*-*-*-*-*-*-*-*-*-*-*-*-*-*-*-*-*-*
https://www.renderosity.com/mod/bcs/index.php?ViewProduct=95020

Required Product:The Kids 4, Kaitey for Kids 4
You need to be a member to see this