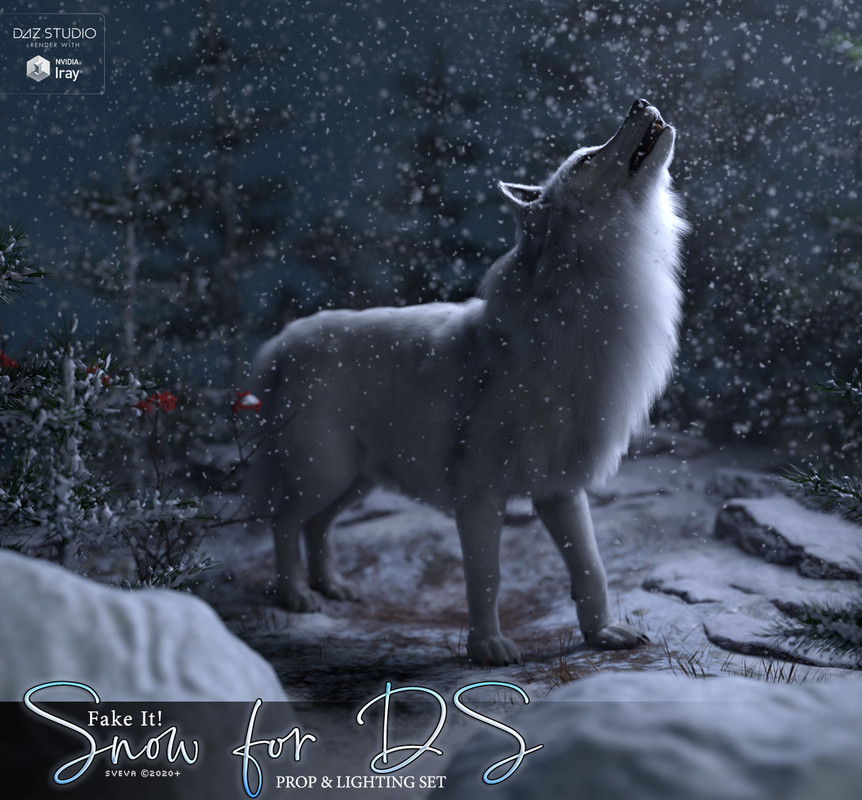 Fake It! Snow for DS Repost
Fake It! Snow for DS
– This is a simple single prop that will not slow down render times, it is not "volumetric"
– As a "Bonus" there are included lights & HDRI used in the renders for promotional images
– Included –
– 01 Fake It! Snow Prop (this is a flat plane)
– 12 "Snow" Materials for the Prop
– 08 HDR Images
– 06 Main Lights
– 03 Render Settings
– Dome On/Off Setting
– Ground On/Off Setting
– Lighting Blur On/Off Setting
– Head Lamp OFF Setting
– Lighting Blur Setting
– Reset ALL Setting
**Please note, as stated this is not "volumetric" snow! This is a single flat plane prop you can place one or multiples into your scene and move them or scale them using the dials! You can place one or two behind with different materials for interesting snow mix, and even one or more in front for DOF or for your character to appear to be in the falling snow, without heavy render times! Volumetric cubes can really slow down scenes, but a simplistic flat plane will get you a snowy winter effect for your scene without the render time & resources load!
Add one or many, duplicate and move them around, apply different materials to duplicated Fake It! Snow props for unique looks!
All of the HDR images that are included have been pulled from various other packs of my own lighting sets, and I have used ONLY the lighting in this pack for these scenes (*except for the last image), so you get the snow AND the lighting! (character/clothes/hair/animals etc not included) You can make adjustments and use the bloom filter in render settings for even more special effects.
Thank you and Happy New Year from Sveva!
https://www.renderosity.com/rr/mod/bcs/index.php?ViewProduct=146006


File Hosting: Google Drive