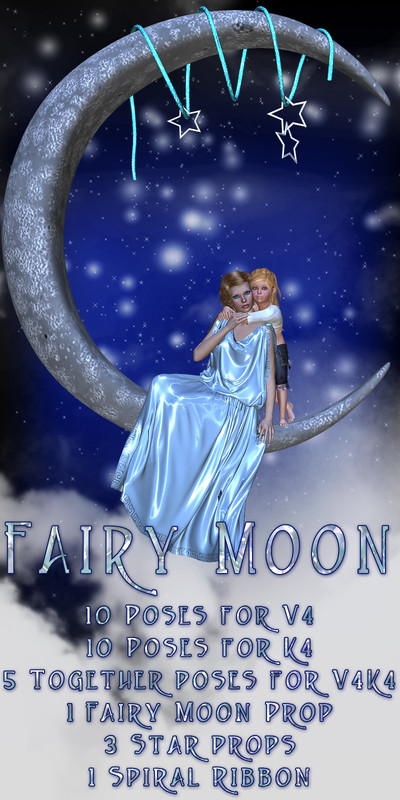 Fairy Moon+Poses
Should they be fairies or should they be angels, your V4 and K4 characters will enjoy a peaceful ride on this Fairy Moon.
In this pack you will get:
*1 Moon Prop
*1 Spiral Ribbon
*3 Stars (which can be moved individually)
*17 Textures for the Moon
*5 Star Textures
*5 Ribbon Textures
*10 Poses for Victoria 4
*10 Poses for The Kids 4
*5 Together Poses for The Kids 4 and Victoria 4
Poses can be mixed and matched with some imagination!!
Thank you for your interest in our product!! Happy rendering!!
Promos Rendered in Poser 7 with
Private Collection lights by SaintFox&DigitalLion
and
Angel Lights by maelwenn @ Daz
Characters are
SASE Jaida by .Seven. and Sabby
Lizzy by PDesign
Rosanna & Sammi by vyktohria
**Notes:**
**BE SURE TO TURN OFF IK IN POSER!!
**Due to IK, slight adjustments may be needed in Daz Studio BE SURE TO TURN OFF IK IN POSER!!
**Some body morphs and clothing may cause need for adjustment
<a href="https://www.renderosity.com/mod/bcs/fairy-moon/87292
www.runtimedna.com/Fairy-Moon-poses.html">https://www.renderosity.com/mod/bcs/fairy-moon/87292
www.runtimedna.com/Fairy-Moon-poses.html


You need to be a member to see this