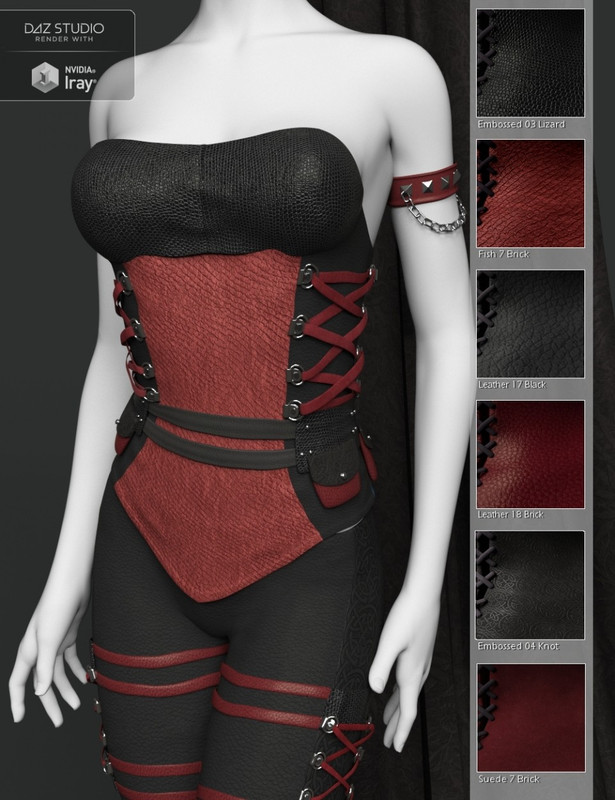 Exotic Leather Shader Presets 3 for Iray
Exotic Leather Shader Presets 3 for Iray is a new product from Handspan Studios.
Both high quality photo and 3d surface scan based leather shader presets in an earthy palette, useful for Western, Native and Bohemian looks but easily customized for others. This new shader preset library, specializing in unique and textural leathers makes the most of Iray's shader capabilities. It uses diffuse overlay, normal and specular channels to achieve a realistic look.
Now with 4k high resolution texture maps. 19 new embossed or tooled leathers with Western, Celtic and Viking, Geometric, Nature inspired motifs. There are over 100 Basic leathers with a focus on pebbled, grainy leathers. Soft, matte Deerskin, Calfskin, Suede, Fish scales, Metallic and Ostrich. This collection contains 184 Shader Presets and the tiling texture maps they are based on. Easy to use, scalable, fun to customize and achieve unique looks.
The 270 shader presets consist of 43 unique seamlessly tiling texture patterns plus the preset color variations based on those patterns. Many more variations are possible by the end user customizing the diffuse and other parameters. These shader presets are based on 305 texture, bump, normal, overlay and specular maps along with the various material settings customized for Daz Studio Iray. Many more than could be shown in the renders. Hundreds of natural, tactile textures that you will find yourself using again and again.
The texture tiles may also be used as a merchant resource in creating UV map textures for sale. More Iray Shader Presets to Come!
https://www.daz3d.com/catalog/product/view/id/67335


You need to be a member to see this