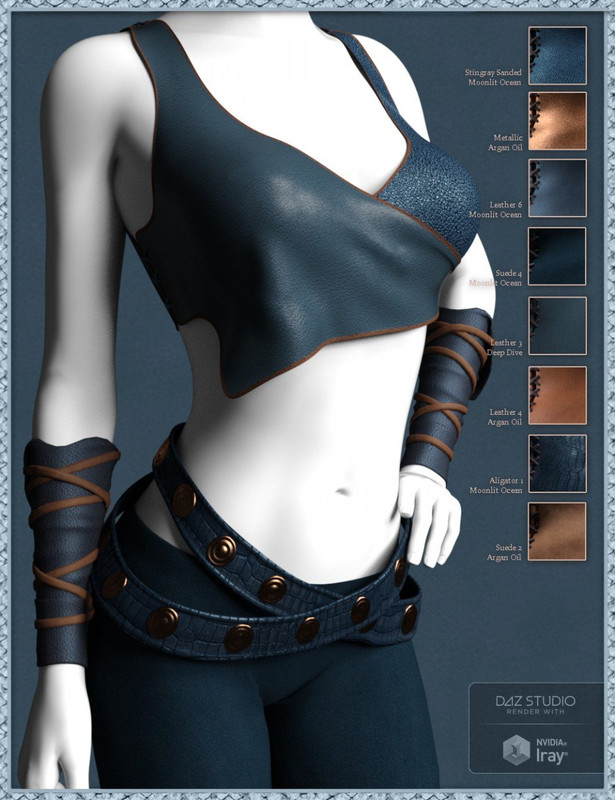 Exotic Leather Shader Presets 1 for Iray
New from Handspan Studios, Exotic leather Shader Presets 1 for Iray. Photo based realistic leather shader presets in a sophisticated, earthy (Pantone) color fashion forecast palette. This new collection, specializing in unique and textural exotic leathers is made to take advantage of Iray's shader capabilities. Gloss, polish and distress looks are separately customizable presets for even more versatility. This collection contains 296 Shader Presets and the tiling texture maps they are based on. Unusual leathers such as stingray, ostrich, fish leather and even toad will add a unique touch to your renders. It also contains useful coordinating basic leather presets in 9 different patterns (122 presets). Easy to use, scalable, fun to customize the diffuse distress overlays and achieve unique looks.
The 296 shader presets consist of 22 unique seamlessly tiling texture patterns plus the preset color, gloss and distress variations based on those patterns. Many more variations are possible by the end user customizing the diffuse and other parameters. These shaders are based on 330 texture, bump and specular maps and the various material settings customized for Daz Studio Iray. This set contains alligator, crocodile, lizard, ostrich, stingray, metallic, fish scale, toad, plus cow, sheep, goat and other standard finishes. Most presets import matte and have a wax buffed level of polish that can be added over if desired, a couple has a higher gloss option where that is more often seen. Organized well with subfolders for each leather type. Many more than could be shown in the renders. Hundreds of natural, tactile textures that you will find yourself using again and again.
The texture tiles may also be used as a merchant resource in creating UV map textures for sale. More Iray Shader Presets to Come!
https://www.daz3d.com/catalog/product/view/id/55945


You need to be a member to see this