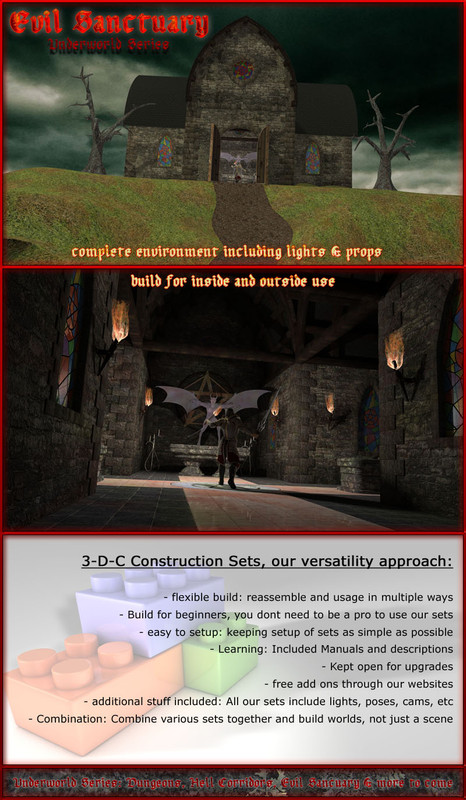 This Post Is Dead - Please Repost It
Evil Sanctuary
The quest of Evil continues.
Here comes another HQ Set of our Underworld Series: The Evil Sanctuary.
You need a place for your demons to rest? Something evil can hide away?
Or are you simply looking for a praying room for your adventureres?
The Evil Sanctuary comes out of the box with:
Figures:
- Sanctuary (All walls, doors, ceiling etc are boned and can individually moved or hidden away)
- Hemisphere
- Tomb 1 (Can Open, Skeleton included)
- Tomb 2 (Can open)
- IBL Helpers
- Torches
Poses:
- Day/Night Preset pose for the hemisphere
Props:
- Altar
- Pentagram
- Outside Landscape
Lights:
- Torch Lights
- Daylight
Additional Hemisphere Mats included.
Check out our other parts of the Underworld Series:
- Dungeon Construction Set
- Graveyard
- Underworld: Hell
More to come.
Remark: Item has been build for Poser. Loads in ok D/S with some particular differences in material settings and light output.
Related Products
https://www.renderosity.com/mod/bcs/index.php?ViewProduct=101073


You need to be a member to see this