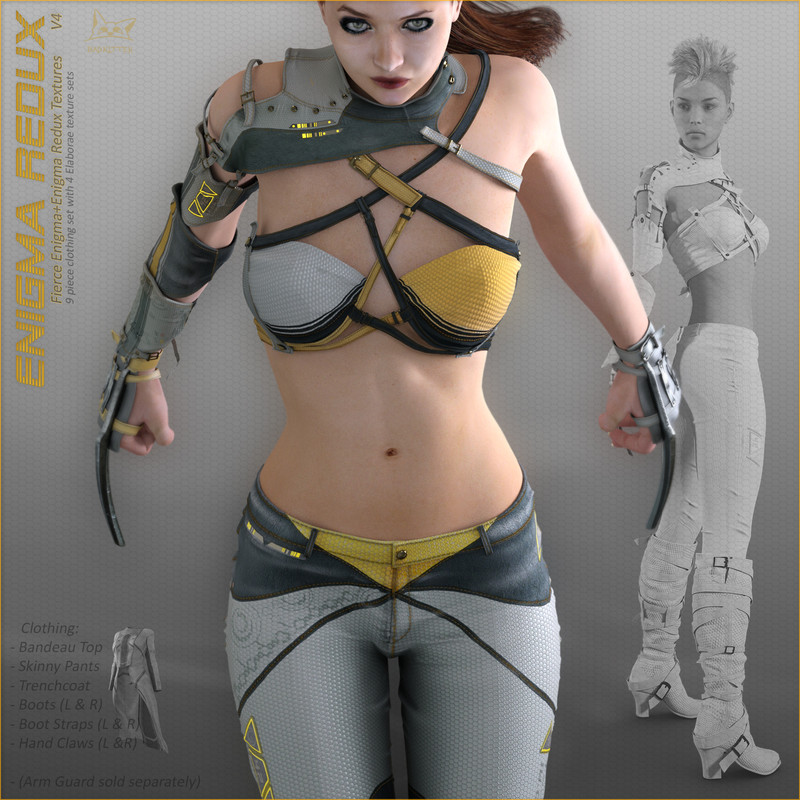 Enigma Redux V4
• Please See Editorial Tab for Detailed Product Description, Technical Details, Morph List and Additional Images
• This is an updated version of Fierce Enigma set (3 new texture sets). We renamed it Enigma Redux V4 to being line with the remaining Enigma products. Those who purchased Fierce Enigma, go to your purchased items and updated files are ready for your download. If you purchased it at RDNA, go to editorial tab (bottom) for update instructions (free).
• Fiercely Independent gear for a an agile and enigmatic Warrioress Queen of post-apocalyptic borderlands.
• Nine-Piece clothing set. Elaborate Trench coat, Bandeau style fighting top, flexible pants, heavy protective boots with additional boot gear, fighting claw-gloves.
• Supporting Poser and DAZ Studio V4 users with the following morph sets: V4 Base, V4++, Elite, Aiko, The Girl and Stephanie4.
• Numerous styling and specialty morphs
• Very finely crafted high resolution texture set suitable for extreme close-ups.
• Do NOT miss the upcoming additional texture sets and expansions to this package.
• This set is made with expansions in mind, which will allow you to create many different looks. It is ready to become an essential part of your core V4 wardrobe.
• Textures in this set range from 2048×2048 to 6144×6144 depending on the size of the clothing mesh. Special attentions has been paid that the texel size is proportionate to expected underlying G3 or G2 figure skin texture at high resolution. Each texture has a diffuse map, specular (or roughness map where needed), bump map and displacement maps (for wrinkles).
• Main focus of textures and shaders in this set is their performance in Iray, however we also provided 3Delight material collection, and found them to perform to our satisfaction. There are some minor details such as metallics and emissives that will not perform the same between Iray and 3Delight.
• Since we calibrated this set for high resolution-up close renders it requires a significant amount of system resources. This means that it may not perform well in multi-figure scenes. Intermediate and advanced users should read the user manual for tips on multi-scene figure rendering and how to reduce required resources.
https://www.renderosity.com/mod/bcs/enigma-redux-v4/110796


You need to be a member to see this