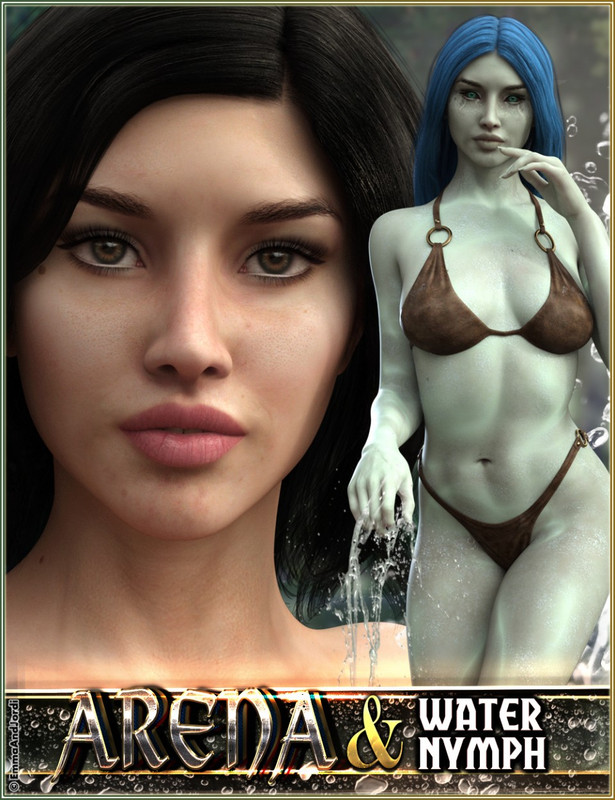 EJ Arena and Water Nymph for Genesis 3 Female
EJ Arena and Water Nymph for Genesis 3 Female
Details
Arena is a beautiful character for Genesis 3 Female, with an alter ego that is a Water Nymph.
You can use it as a gorgeous casual character, or as a fantasy creature with special features, or use any or all of her many features as you like. Arena is a must have!
She has a gorgeous custom face morph that joins personality and appeal, and a detailed skin. As a Water Nymph she has a special skin that has caustics- the shades of water and reflections, special makeups and eyes, and a fantasy ears morph. For the human part, you have casual makeups that enhance her beauty, and also special makeups of water splashes and swirls.
Arena is a very versatile character for Genesis 3 Female, with lots of features that you can use to get many different looks:
WATER NYMPH OPTIONS: Arena can also become Water Nymph, with a special water themed skin and reflections, two special eyes (beautiful nymph eyes of deep blue and turquoise sclera, and bright turquoise eyes with dark sclera if you want a more dark or deity-like appearance), two special lips, two special makeups, and a fantasy ears morph. An icon is provided to remove the special options and restore the default base skin.
CUSTOM SCULPTED MORPHS: The custom head morph of Arena has been made with versatility and beauty in mind. She also has a nails morphs, fantasy ears, long nails, stilleto nails, and a custom morph that simulates the external Anatomical Elements. All these morphs only need Genesis 3 Female Base. The body uses Genesis 3 Female Body Morphs for maximum compatibility with all your clothing.
SKIN DETAIL: Arena's skin is carefully detailed using several CG techniques, and her makeups have been designed to not cover but emphasize the beauty of her skin. Her skin also includes features like pores, moles, and variations found in human skin that will give you the quality you need for the new generation of NVIDIA Iray renders. She includes materials both for Iray and for 3Delight. You can use Arena with or without makeup, if you want to show her natural detailed skin, giving you the possibility to render her in all the moments of her virtual life and situations.
Click here to view my other posts.
https://www.daz3d.com/ej-arena-and-water-nymph-for-genesis-3-female

Required Product:Genesis 3 Female Body Morphs
You need to be a member to see this