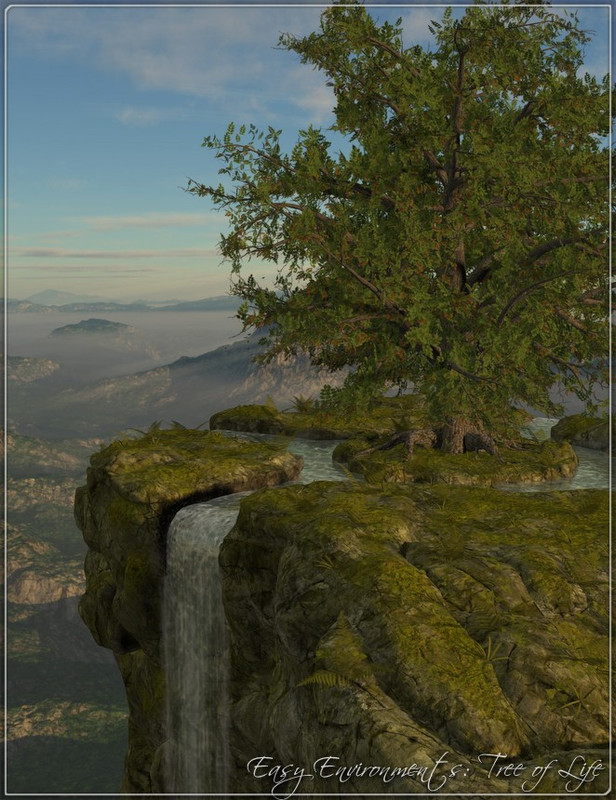 Easy Environments: Tree of Life
"High above mountains covered in mist stands the Tree of Life, promising peace, truth and eternal life to seekers of pure heart."
The Easy Environments series for Daz Studio and Poser combines high-res 360° Sky & Landscape backgrounds with terrains fit for close range shots.
The tree can be hidden to open up the small isle, and the isle can be hidden to reveal the small pond.
The tree is also included as single preload in case you want to use it in a different environment.
No postwork on the previews, things like godrays or the butterflies are part of the set (and can be hidden as well of course).
The file formats are native .DUF for Daz Studio 3Delight and Iray, and .PP2 for Poser.
Lighting included for all versions (in case of Iray through the HDR environment).
You can get additional info and tips here: http://flipmode3d.com/easy-environments/
What's Included and Features
Easy Environments: Tree of Life (.DUF, .LT2, .PP2 and .OBJ)
3Delight Lighting
Iray Render-Setting Backdrop
3Delight Skydome
Iray and 3Delight Tree
Iray and 3Delight Environment
Textures Include:
44 Texture, Bump, Displacement, Specular and Transparency Maps (up to 8192 x 8192)
https://www.daz3d.com/easy-environments-tree-of-life


You need to be a member to see this