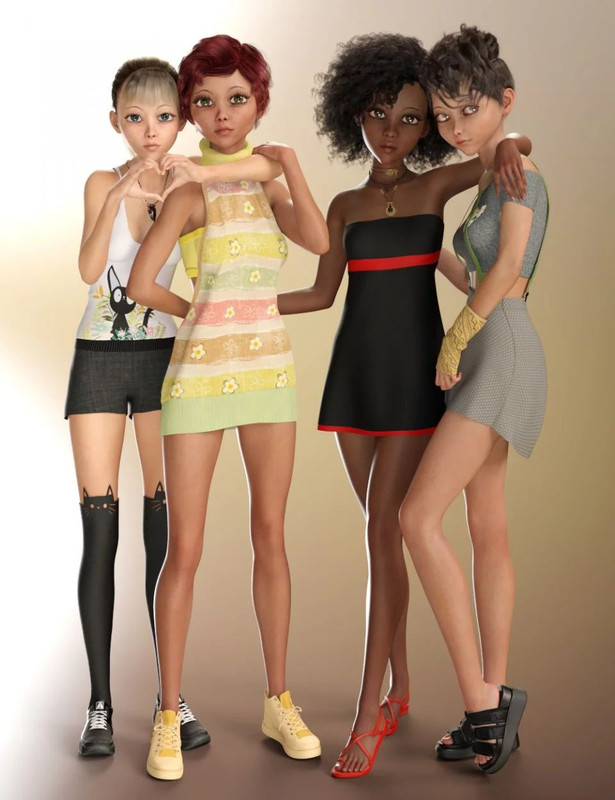 Diva Remix – Toons for Tika 8
Diva Remix – Toon Tika brings a variety of character styles to Tika 8. Four cute Shape Presets (plus additional taller and curvier versions) transform Tika 8 into cartoon and anime type figures. Named for the style they are shaped after, "Anime", "Dolly", "Toony", and "SuperToon" provide four styles of anime and toon type characters while the many skin, makeup, fingernail, toenail, lashes, and eye presets give you a wide variety of options for further character customizing.
Two versions of each shape have been included to accommodate a wider variety of body shape preferences. Version "A" of each shape is more petite, less curvy, and has smaller hands and feet. Version "B" of each shape is taller and curvier with larger hands and feet.
Seven "realistic" skin presets have been set up with Altern8 type skin settings and an additional 6 "toon" skin presets have been set up for when you want more of a "toon" look to the skin.
Skin shine strength shaders, lighter palms and lighter soles presets, as well as 8 makeup strength settings have been provided for further customization of a wider variety of skintones and ethnicities.
Bring Diva Remix – Toon Tika into your 3D collection and bring out "Anime", "Dolly", "Toony", and "SuperToon" out to play. Enjoy the fun and whimsy these cuties bring to your renders! 🙂
What's Included and Features
Diva Remix – Toon Tika (.DUF):
Shape Presets:
09 Shape Presets + 02 Bonus Shape Presets
01 Scale Size Preset
Materials Presets:
13 Skin Settings Presets + 01 Bonus Skin Setting Preset
04 Lighter Palms Presets + 01 Ligher Palms Off Preset
04 Lighter Soles Presets + 01 Ligher Soles Off Preset
13 Eye Color Presets
12 Eyelash Color Presets
03 Sclera Brightness Presets
05 Tika Makeup with Brows Presets + 01 Makeup Off with Brows Preset
05 Tika Makeup with No Brows Presets + 01 Makeup Off with No Brows Preset
08 Makeup Strength Settings
05 Lip Color Presets + 01 Lip Color Off preset
10 Fingernail Color Presets
03 Fingernail Shine Presets
10 Toenail Color Presets
03 Toenail Shine Presets
Shaders:
13 Skin Shine Strength Shaders
Wearables:
01 Bonus Doll Lashes
Textures Include:
6 Diffuse Overlay and Duel Lobe Specular Maps (2048 x 2048 to 4096 x 4096)
Daz Studio Iray Material Presets (.DUF)
**************************************
More items like this HERE!
**************************************
https://www.daz3d.com/diva-remix--toons-for-tika-8


You need to be a member to see this