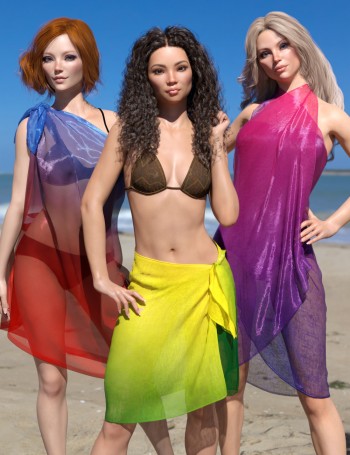 dForce Pareos Pack for Genesis 8 Female(s)
A pareo is one of the most versatile clothing items. This pack brings you three different styles with many texture options.
These pareos are ideal for all your beach, summer and pool scenes and a lovely addition to your character portraits!
All three pareos have poseable skirts, just click a skirt area and pose it as needed. However, due to the loose shape of the pareos they are NOT meant to be used without dForce. They require a dForce simulation to adjust properly to the pose.
The pack includes three different pareos, three full materials and three color gradients and fabric presets for mix and match, as well as several options for fabric shine and transparency.
What's Included:
dForce Pareos Pack for Genesis 8 Female(s) (.DUF)
Pareo Tied on Hip
Pareo Tied on Shoulder
Pareo Tied around Neck
Supported Shapes
Figure Shapes
Aiko 8
Alexandra 8
Charlotte 8
Edie 8
Karyssa 8
Mika 8
Monique 8
Olympia 8
Penny 8
Sakura 8
Stephanie 8
Teen Josie 8
Teen Kaylee 8
Victoria 8
Zelara 8
Body Shapes
Body Size
Bodybuilder Size
Emaciated
Fitness Size
Heavy
Pear Figure
Thin
Voluptuous
Breast Shapes
Implants
Natural
Cleavage
Diameter
Gone
Heavy
Shape 1-8
Size
Small
Other Shapes Supported by Auto-follow
Material Presets
Classic
Flowers
Tropical
Mix and Match Presets
3 Color Only Presets
3 Fabric Presets
7 Shine Presets
7 Opacity Presets
Utilities
User Guide PDF
Knot Off
Knot On
Simulation Settings
Mix and Match Quick Guide
Tails Default
Tails Flipped
Textures Include
50 Texture, Bump and Normal Maps (4096 x 4096)
Daz Studio Iray Material Presets (.DUF)
Click
here to view my other posts.
https://www.daz3d.com/dforce-pareos-pack-for-genesis-8-females


You need to be a member to see this