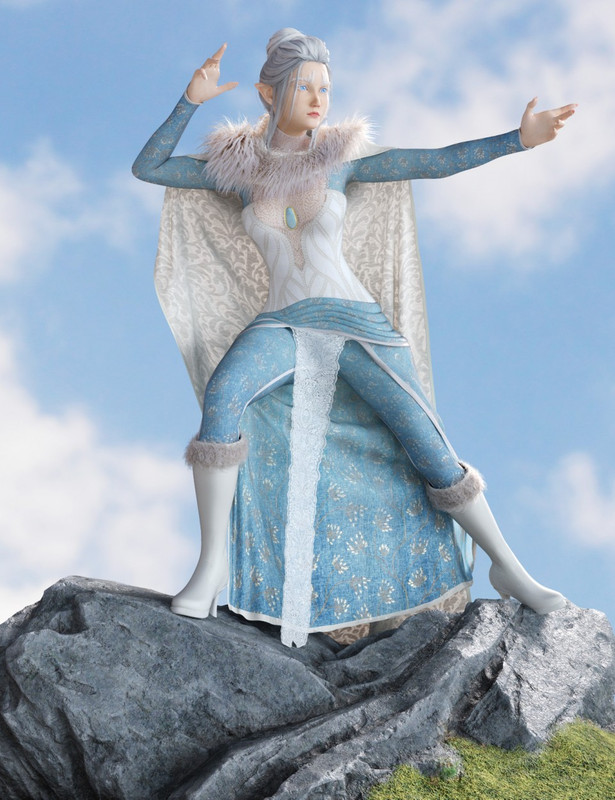 dForce Nkea Outfit for Genesis 8 Female(s)
Versatile outfit with dForce cape and dForce dress, fur boots, fur cape guard and pants.
dForce Nkea Outfit for Genesis 8 Female(s): (.DUF)
Nkea H. Foot Pose
Nkea Load All
Nkea Boot Left
Widen_Shin
Nkea Boot Right
Widen_Shin
Nkea Cape Fur
Expand_All
L_arm_Back
Move_Up
R_arm_Back
Widen_Shoulders
Nkea Cape
Adj_armL
Adj_armR
Back_Out
Front_out
LShldr_Up
Longer
RShldr_Up
Shorter
Shoulders_Up
Wind_Back
Wind_Left
Wind_Right
Nkea Dress
Flap_move_L
Flap_move_R
LShin_out
RShin_out
SkirtFlap_Move_forward
SkirtFlap_Move_forward2
Skirt_Fan_Out
Skirt_Left_move_out
Skirt_Right_move_out
Skirt_Shorter
Widen_Skirt_Bottom
Widen_Waist
Nkea Pants
Widen_Waist
Supported Genesis 8 Female Shapes:
FBM Karyssa 8 Body.dsf
FBM Sakura8Body.dsf
FBMAiko8.dsf
FBMAlexandra8.dsf
FBMBellaBleu.dsf
FBMBodySize.dsf
FBMBodybuilderDetails.dsf
FBMBodybuilderSize.dsf
FBMCharlotte8.dsf
FBMEmaciated.dsf
FBMFitnessDetails.dsf
FBMFitnessSize.dsf
FBMMonique8.dsf
FBMOlympia8.dsf
FBMPearFigure.dsf
FBMStephanie8.dsf
FBMTeenJosie8Body.dsf
FBMThin.dsf
FBMVictoria8.dsf
FBMVoluptuous.dsf
Mildred Body.dsf
PBMBreastsImplants.dsf
PBMBreastsNatural.dsf
PBMBreastsCleavage.dsf
PBMBreastsDiameter.dsf
PBMBreastsGone.dsf
PBMBreastsHeavy.dsf
PBMBreastsSize.dsf
PBMBreastsSmall.dsf
PBMBreastsUnderCurve.dsf
Material Options:
03 Material Options
Hide skirt and skirtflap
Show skirt and skirtflap
Add and remove displacement for Cape fur
Textures Include:
105 Texture, Bump Maps and Normal Maps (4096 x 4096)
Daz Studio Iray Material Presets (.DUF)
Daz Studio 3Delight Material Presets (.DUF)
Only the skirt and skirtflap have dforce settings, please leave the dynamic strength off on the other material zones, especially the bodice skirt.
Load Capefur after dForce simulation or hide it in the scene tab.
Some poses may cause the dress to intersect with the boots. You can shorten the dress a bit or hide the boots while doing the simulation.
Movement poses in dress will work best before you simulate the dress.
https://www.daz3d.com/dforce-nkea-outfit-for-genesis-8-females