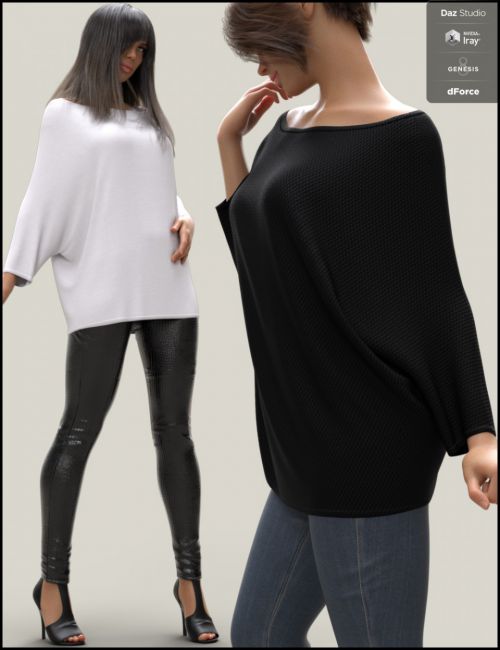 dForce Fashionista Outfit for Genesis 8 Female(s)
dForce Fashionista is a stylish and versatile outfit for Genesis 8 Female(s)
Included – Pants, Shoes and Batwing Top.
The Pants and shoes are not dForce, but the Top must be used with dForce. The top is basic rigged for the purpose of following morphs, but will not work without simulation.
The Top can be worn over undergarments from your library (within limits). There are plenty of morphs to adjust and style the top to achieve different looks. Plus there are 4 different Fabric texture presets that have different dynamic surface properties to better reflect how they would drape in the real-world. Each Fabric comes in 3 preset colors, however, they have been highly detailed in order to allow you to change the color to ANY color you want by simply changing the Base Color in the Surface Tab.
What's Included and Features
dForce Fashionista Outfit for Genesis 8 Female(s)
Full Wearable Preset
Foot Pose
dForce Top (with adjustments)
Pants (with adjustments)
Shoes (with adjustments)
MAT Iray Options
6 MAT Colors for the Pants
5 MAT Colors for the Shoes
4 MAT Fabrics for the Top in 3 colors (White, Black, Red)
Textures Include
65 Texture, Bump, Glossiness, Normal and Transaprency Maps (1024 x 1024 to 4096 x 4096)
Texture Templates available through the Product Library
Daz Studio Iray Material Presets (.DUF)
Notes
This product includes:
1 DSON Core Installer
https://www.daz3d.com/dforce-fashionista-outfit-for-genesis-8-females


You need to be a member to see this