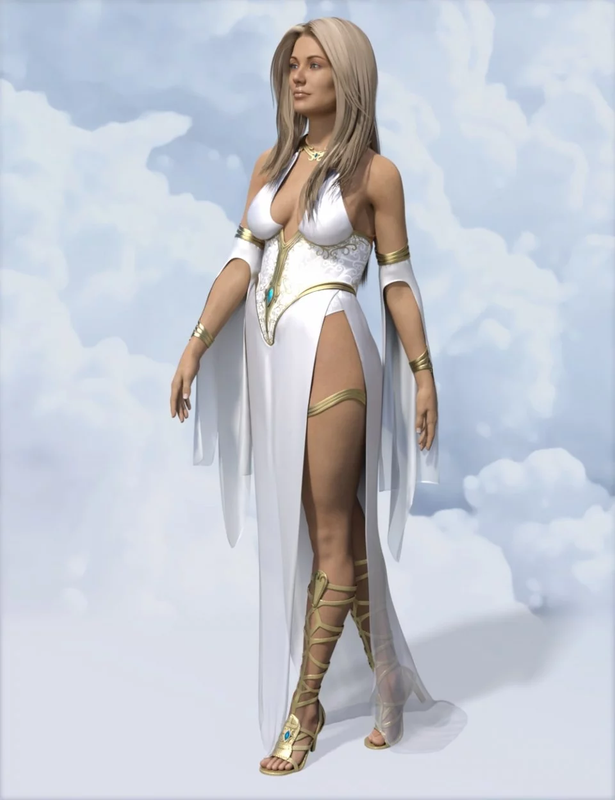 dForce Ethereal Goddess Outfit for Genesis 8 Female(s)
The Ethereal Goddess Outfit includes what you need to change your Genesis 8 Female Figure to a starry sorceress!
The Dress and Sleeves of this elegant and flowing outfit are compatible with dForce, for easy draping and posing, and with additional textures, stunning hair and lots of supported shapes, it will fit your favorite Genesis 8 character just right.
Don't forget to also get the Ethereal Goddess Hair to give your character a special outfit and hair combo!
What's Included and Features
Ethereal Goddess Outfit for Genesis 8 Female(s) (.DUF)
Ethereal Goddess Outfit Load All
Ethereal Goddess Dress
Back Band Adjust
Breasts Adjust
Collar Bottom Loops
Collar Expand & Contract
Collar Front Adjust
Collar Top Loops
Collar Up & Down
Drapery End Wrinkles
Dress Back Length
Dress Down
Dress Front Length
Front Hip Adjust
Glutes Adjust
Hip Adjust
Left Hip Adjust
Right Hip Adjust
Stomach Adjust
Ethereal Goddess Sandals
Toe Band Adjust
Toe Band Big Toe Adjust
Ethereal Goddess Sleeves
Armband Expand & Contract
Armband Stretch & Squish
Sleeves Length Adjust
Sleeves Width Adjust
Wristbands Expand & Contract
Supported Shapes
BodySize
BodyBuilder
fitness
Height
Thin
Emaciated
Voluptuous
PearFigure
Victoria 8
Olympia 8
Teen Josie 8
Stephanie 8
Monique 8
Charlotte 8
Aiko 8
MeiLin 8
Some Shapes May Be Supported by Auto-follow
1 Pose
Ethereal Goddess High Heel Pose for Genesis 8 Female
4 Material Options
4 Materials for Ethereal Goddess Dress
4 Materials for Ethereal Goddess Sandals
4 Materials for Ethereal Goddess Sleeves
Textures Include
20 Texture, Height, Roughness, Opacity, Metallic and Normal Maps (4096 x 4096)
Daz Studio Iray Material Presets (.DUF)
https://www.daz3d.com/dforce-ethereal-goddess-outfit-for-genesis-8-females


You need to be a member to see this