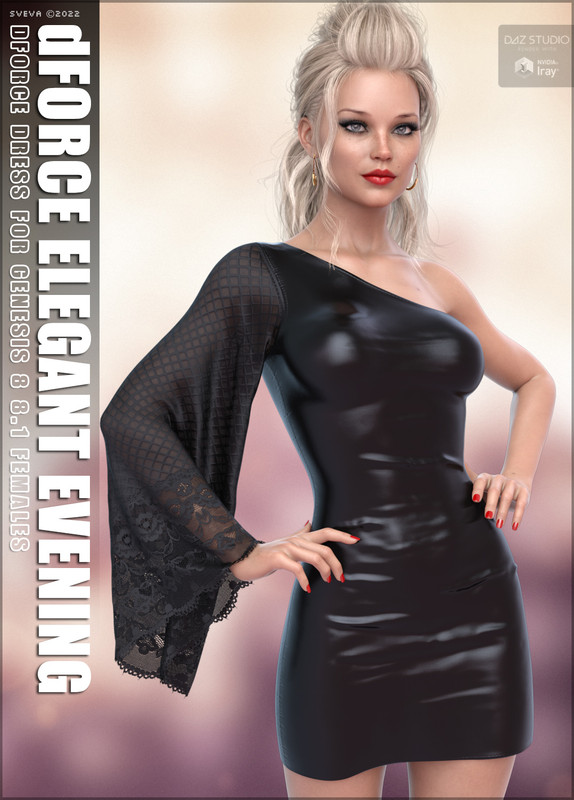 dForce Elegant Evening Dress G8G8.1F
Included:

dForce Elegant Evening Dress
Included Materials:


- 10 Iray Materials for the Dress

– 06 Any Color Iray Materials (saved in white, created from the originals)


Adjustment Morphs:

Adj_BackLower

Adj_BackUpper

Adj_Belly

Adj_BreastLeft

Adj_BreastRight

Adj_Breasts

Adj_Chest

Adj_Glutes

Adj_GlutesLeft

Adj_GlutesRight

Adj_HipsLeft

Adj_HipsRight

Adj_Shoulder

Adj_ThighLeft

Adj_ThighRight

Adj_UnderArmLeft

Adj_UnderArmRight

Adj_WaistLeft

Adj_WaistRight


Expand Morphs:

Expand_All

Expand_Bottom

Expand_Sleeve

Expand_Waist


Style Morphs
:
Style_Front Lower/Higher

Style_Longer

Style_Shorter

Style_Sleeve Smaller


**dForce is required

**Adjustment morphs are included.

**You MUST make sure body parts are not intercepting other body parts when using dForce


Please see Read Me for additional information.


Thanks!


- No Postwork on promotional images

- Promo Show Poses by Lilflame

- Other misc. Poses

- Jewelry NOT included