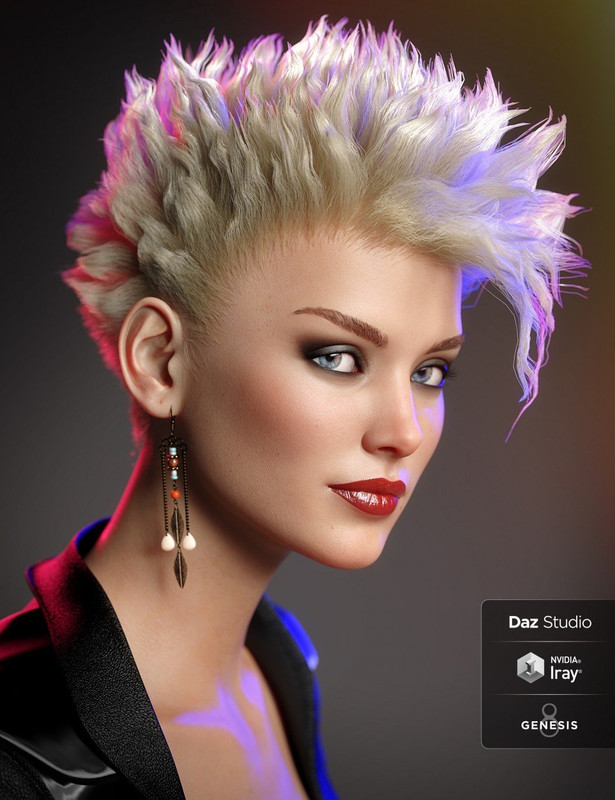 dForce C1 Spiky Hair for Genesis 3 and 8
dForce C1 Spiky Hair is a versatile hair set compatible with all the males and females of Genesis 3 and Genesis 8 generations.
With all those spikes and its bangs that can be morphed to be moved, longer, shorter or hidden, with its ability to be very short or get longer, this hair will fit all the styles, from Rocker or Punk to more conventional styles.
It's a dForce short hair based on Daz Studio's Strand hair technology:
You can simulate it (for example to make them look wet with the preset included) but you don't have to run a simulation in order to use it so you can just load it like any other regular hair set.
Several presets are included, to change the shader, the length, the density, the styles, the way it appears in the viewport, etc.
It's basically "Click and Render" as no tweaking is necessary to obtain great results from the start.
The materials are all IRAY but if you only use 3Delight, you probably already have your own ways of converting shader to fit your needs.
The hair itself can (with some limitations by the strand system) use other specific shader (Iray or 3Delight) presets that you may already own or create.
https://www.daz3d.com/dforce-c1-spiky-hair-for-genesis-3-and-8


You need to be a member to see this