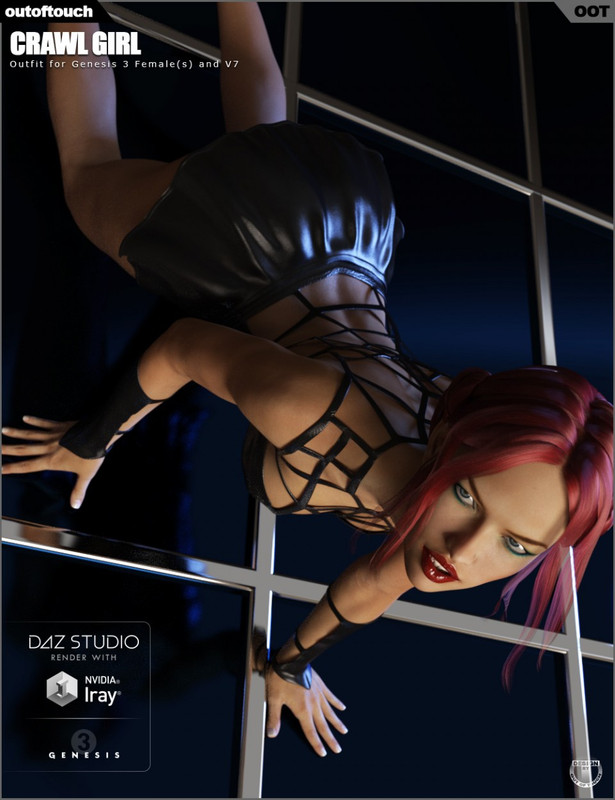 Crawl Girl Outfit for Genesis 3 Female(s)
Details
The Crawl Girl outfit is a high quality conforming sexy leather outfit for Genesis 3 Female(s).
This high quality conforming clothing set for Genesis 3 Female(s) comes with special care for realistic details and a set of completely refined built-in JCMs and body morphs.
Included are 6 high quality and high res texture styles with both high quality material options for 3Delight and Iray.
BONUS:Customize the style! You'll get 20 additional color options for different material zones of the model that can be applied to any of the 6 included styles to create your own sexy color combination!
What's Included and Features
Crawl Girl Outfit for Genesis 3 Female(s): (.DUF)
Crawl Girl Outfit
Crawl Girl Suit:
Adjust-All
Adjust-Back
Adjust-BreastL
Adjust-BreastR
Adjust-BreastTop
Adjust-BreastUnderL
Adjust-BreastUnderR
Adjust-BreastsMid
Adjust-Chest
Adjust-CollarL
Adjust-CollarR
Adjust-ForearmL
Adjust-ForearmR
Adjust-GluteL
Adjust-GluteR
Adjust-HipL
Adjust-HipR
Adjust-Hips
Adjust-Neck
Adjust-ThighL
Adjust-ThighR
Adjust-Waist
Crawl Girl Gloves:
Adjust All
Adjust Forearm L
Adjust Forearm R
Crawl Girl Skirt:
Flare
Longer
Wind-Back
Wind-Front1
Wind-Front2
Wind-Front3
Wind-L
Wind-R
Adjust-All
Adjust-GluteL
Adjust-GluteR
Adjust-HipL
Adjust-HipR
Adjust-Hips
Adjust-Neck
Adjust-ThighL
Adjust-ThighR
Adjust-Waist
Supported Shapes:
Bethany 7
Body Size
Body Tone
Bodybuilder Details
Bodybuilder Size
Fitness Details
Fitness Size
Karen7
Thin
Victoria 7
Voluptuous
Breasts Cleavage
Breasts Diameter
Breasts Implants L
Breasts Implants R
Breasts Size
Breasts Small
Waist Width
Glutes Size
Hip Size
Other Shapes supported in DAZ Studio by Auto-follow
Material Options:
Iray and 3Delight version of each material
06 Material Options for each piece
20 Matzone 1 Color Options
20 Matzone 2 Color Options
20 Matzone 3 Color Options
20 Matzone Trim Color Options
Textures Include:
32 Texture, Bump, Transparency, Displacement, and Specular Maps (4000 x 4000)
14 Texture, Bump, Transparency, Displacement, and Specular Maps (3000 x 3000)
02 Reflection Maps (1024 x 1024)
Texture Templates available through the Product Library
DAZ Studio Iray Material Presets (.DUF)
DAZ Studio Material Presets (.DUF)
https://www.daz3d.com/crawl-girl-outfit-for-genesis-3-female-s


You need to be a member to see this