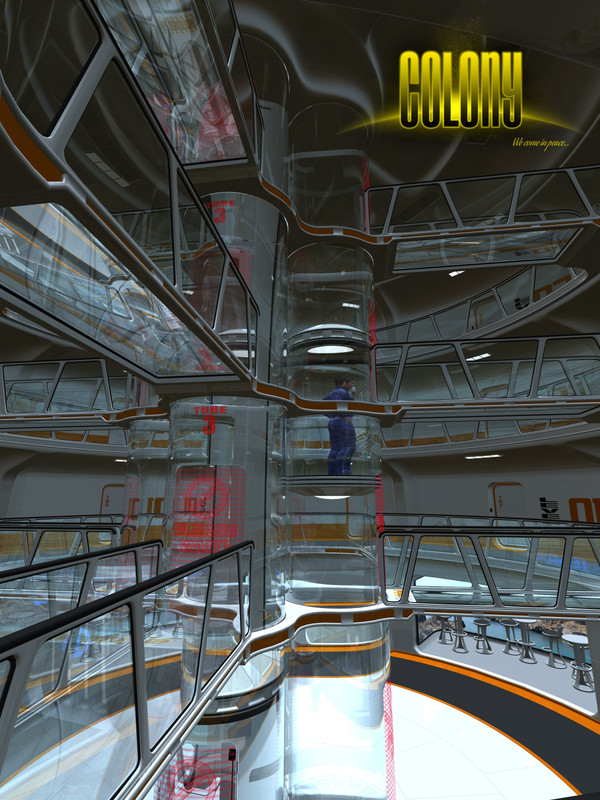 Colony Hive for Poser and DS
Another modular solution for your Colony. This time, large residential
structure called "Hive".
You can add levels on base structure and close it with top segment.
Levels are connected together with elevators in glass tubes. You can move
any of four glass elevators up/down.Force fields on elevator tubes prevent
accidental falls, but you can hide each separately.
There are four booth on base layer, empty by default, which can be
equipped with props: bar table, bar chair, table, chair, decorative screens,
info desk and sofas.
I included finished scene of 3 level high structure with all decorative props
and furniture and placed 15 cameras. If that's not enough, you can raise the roof 😉
and add more levels in between. You can change level marks for each level –
I included materials for levels 1-9.
All of this is ready to use in Poser Superfly and Firefly, as well in DAZ
Studio Nvidia Iray.
Whole structure is filled with glass tubes, fences, sky bridges…
so I used material that look close enough to glass but won't choke rendering
process to much. Of course, you can change it with your favorite glass material.
It's important to say that this product doesn't include rooms
(doors on levels are locked). Allegedly, rooms in hive are very comfortable.
But it's for me to investigate in the future 😉
https://www.renderosity.com/rr/mod/bcs/colony-hive-for-poser-and-ds/148565/


You need to be a member to see this